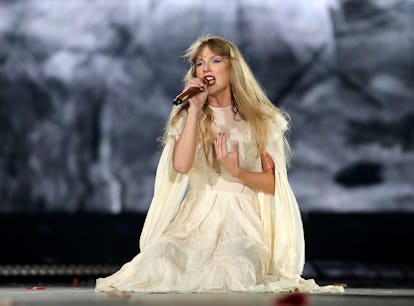 Taylor Swift's New Song "The Alcott" Subtly References A Few Of Her Past Songs
The "Invisible String" connection is ruining me!
Bob Levey/TAS23/Getty Images Entertainment/Getty Images
The Taylor Swift Cinematic Universe has expanded once again. On April 27, her new duet with The National dropped, giving Swifties a new longing ballad about reuniting exes to play on repeat. But there are more reasons to love "The Alcott" than just what's on the surface. As Easter egg-hunting Swifties well know, all of Swift's releases have a deeper meaning, and "The Alcott" is filled with references and connections to certain songs in her discography.
"The Alcott" marks Swift's second duet with The National, following her Evermore track "Coney Island." But it's the latest in a long tradition of Swift's collaborations with The National's band member Aaron Dessner. As such, the moody new song has a lot of echoes of Swift's previous Dessner collabs, but it's notably a much more hopeful love story than the pair's earlier songs about heartbreak and lost love. The cinematic track tells the story of two exes who meet up in a hotel bar to try to give their relationship a second chance. The tone and composition of the song will remind hardcore fans of a few other Swift songs, but it's the lyrics that provide the most eye-opening connections to her past work.
Here are the other Swift songs that seem to have a connection to "The Alcott."
"Invisible String"
The imagery in the new song most closely calls back to one of Swift's most romantic songs ever, "Invisible String." At the beginning of "The Alcott," The National's Matt Berninger sings about getting "twisted in threads" while on his way to meet his ex. These threads could be what's left of the invisible string Swift sang about on Folklore, a thread that kept her and her lover eternally connected.
The color gold is also prominent in both songs. Swift described the invisible string as a "single thread of gold." And in "The Alcott," Swift's character has a golden notebook, and mulls over a way to break into her partner's "golden thinking."
"Exile"
In terms of structure, "The Alcott" most closely mirrors Swift's Folklore collaboration with Bon Iver, "Exile." Both songs share a similar call-and-response, conversational composition, in which Swift and her partner's verses overlap one another in a revelatory back and forth. In particular, both songs also share a similar line about Swift's fears that she's the "problem" in a relationship. In "Exile" she sings, "I'm not your problem anymore." In "The Alcott," she wonders, "Have I become one of your problems?"
"Illicit Affairs"
Another Folklore track that reappears in echoes in "The Alcott" is "Illicit Affairs." Fans were quick to point out the new song's bridge is lyrically similar to the "Illicit Affairs" outro. The Folklore track ends with Swift confessing she'd "ruin [herself] a million little times" for her partner, much like how Berninger repeats his anxieties about ruining everything over and over again in the new release's bridge.
"Coney Island"
Of course, the most obvious song to compare "The Alcott" to is Swift's previous duet with The National, "Coney Island." The new song definitely sounds like a continuation of the "Coney Island" story, focusing on the same couple that had broken up now reuniting after enough time had passed to get over their previous issues. And once again, gold is important in both songs, with the gold clock referenced in "Coney Island" mirroring the golden notebook in "The Alcott."
It's clear Swift and her collaborators put a ton of thought into the tiniest details of her songs, so expect this world she's built upon with "The Alcott" to only grow as she continues to tell this complex love story through her duets.