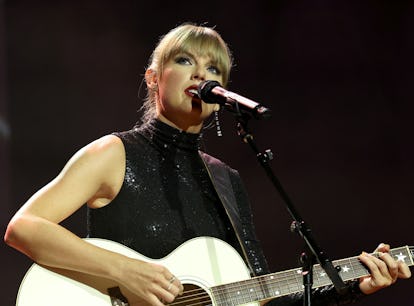 Screaming, Crying: More Taylor Music Is On The Way
You can thank her longtime collaborators.
Terry Wyatt/Getty Images Entertainment/Getty Images
Swifties, brace yourselves: Taylor Swift has new music on the horizon. Well, sort of. It's no secret the world has been in a lavender haze since Swift released Midnights last year. Now, the pop singer is offering stans a break from endlessly looping the album thanks to an upcoming collaboration with The National. Specifically, Swift will appear on the indie band's ninth studio album, First Two Pages of Frankenstein.
On Jan. 17, The National announced on Instagram that their forthcoming album will arrive on April 28. Sharing the record's grainy cover art, the indie band also posted the tracklist. The song titles alone feel moody and darkly exhilarating; however, the true highlight lies in their guest appearances. Swift is listed as a collaborator on their seventh track, "The Alcott." Phoebe Bridgers and indie-rock singer Sufjan Stevens are also featured on the album.
For many Swifties, this collaboration between Swift and The National might not be too much of a surprise. The two are longtime collaborators, with the band appearing on Swift's 2020 albums Folklore and Evermore. According to Rolling Stone, The National's guitarist Aaron Dessner primarily helped fine-tune Swift's sound on Folklore, which slightly embodies sweater-weather love tunes.
Dessner also flaunted his sonic expertise on Evermore, gathering the entire band to collaborate on the album's track "Coney Island." This somber number sees both artists drowsily reminiscing about past relationships.
Sonically, "Coney Island" flows like something The National would release on their own album. The instrumentation is melancholic, the lyrics are conversational yet bitterly languid — there's pure regret and heartbreak oozing throughout each verse. Being that Swift holds the crown of crafting emotionally vulnerable songs, this entire collaboration made perfect sense.
It would be interesting if their new collaboration rides a similar wave to "Coney Island." The National seldom creates pop tracks, so there's a chance "The Alcott" might toy with darker arrangements. Swift's already shown she can adapt her vocals to indie-inspired synths, like her recent performance of 1975's "The City" at the band's London show. If that happens to be the case for "The Alcott," then crossing genres shouldn't be a hard feat for her. Either way, this collaboration has fans buzzing with anticipation.