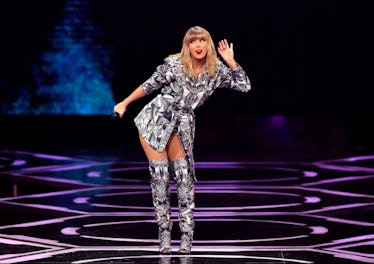 16 Timeless Taylor Swift Songs To Put On Repeat After A Breakup
China News Service/China News Service/Getty Images
After a soul-crushing split, listening to a song that reflects on a similar experience can usually make you feel a little bit less alone. And who's more reliable for such comfort than Taylor Swift? After all, she's covered pretty much every breakup mood possible — from bitterness to wistful regret and everything in between. While there are literally dozens of Taylor Swift songs to listen to after a breakup, the ones that stand out are the ones that showcase her signature emotional honesty and vulnerability.
During her Tiny Desk concert for NPR, Swift explained that one reason why she's penned so many breakup jams is that songwriting is such a cathartic experience for her. It makes sense, too — having dated such celebs as Joe Jonas, Jake Gyllenhaal, Calvin Harris, and Tom Hiddleston, just to name a few, she's gone through quite a few high-profile breakups over the years.
"A heartbroken person is unlike any other person," Swift told Elle in a 2015 interview. "It's this mental, physical, emotional ache and feeling so conflicted. Nothing distracts you from it. Then time passes, and the more you live your life and create new habits, you get used to not having a text message every morning saying, 'Hello, beautiful. Good morning.' You get used to not calling someone at night to tell them how your day was."
If there's one thing you can say about Swift, it's that she doesn't shy away from digging deep into all the uncomfortable facets of breakups — from the awkwardness of running into your ex to the guilt you feel for letting a romance play out that you knew wasn't going anywhere. These songs can be just as therapeutic for you to listen to as they were for Swift to write. So, whether you're still crying your eyes out after a blindsiding breakup, or finally starting to get over your ex, these are the songs you'll want to put on full blast.