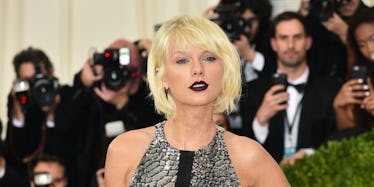 11 Guys You Totally Forgot Taylor Swift Dated Before Tom Hiddleston
REX/Shutterstock
I get irrationally angry every time I see anything about Drake and Taylor Swift dating, and I will refuse to believe it's true until the day I die.
But that doesn't mean I won't accept some good-ass breakup songs. YA HEAR THAT, TAY AND DRIZ?
Taylor Swift is fresh off a breakup with Tom Hiddleston, but I never thought the next guy she would make headlines with would be Drizzy.
While Taylor and Tom's relationship was in the public eye for quite some time, we sometimes forget about her life pre-Tom.
Taylor Swift has a long list of ex-lovers, so let's take a trip down memory lane and commemorate some of her forgotten relationships.
1. Joe Jonas
It's always funny when a wholesome couple breaks up in a petty way.  I was such a big fan of Taylor Swift's until this video calling out Joe Jonas for breaking up with her came about.
The best part of this is how angry she was at Joe for breaking up with her over the phone, and then she did the same exact thing to Calvin Harris. LOL, classic.
2. Taylor Lautner
TaySquared: How could we forget them? They met on the set of "Valentine's Day" back in 2009. It's rumored her song "Back to December" was even about him.
3. Cory Monteith
Taylor Swift and Cory Monteith were never confirmed to be a couple, but Ellen did ask Taylor in an interview if they were dating, and she was looking mighty suspicious.
When Monteith passed away, Swift tweeted "Speechless. And for the worst reason." Rest in Paradise, Number 5.
4. Lucas Till
This "Hannah Montana: The Movie" star seemed like a really good match for Taylor.
Everyone was rooting for them, especially since it would have been such a beautiful, music-video-turned-real-life happy ending.
Lucas Till said they were better off as friends, though. Sigh.
5. John Mayer
This dramatic breakup happened three months after John Mayer and Taylor Swift started their relationship.
It's rumored this relationship is what started the ~bad blood~ between Taylor Swift and Katy Perry. We definitely did get some great songs out of this one, though.
6. Jake Gyllenhaal
Taylor wrote "All Too Well" about her relationship with actor Jake Gyllenhaal.
The two were seen out together on multiple occasions, but people probably forget about them because their relationship only lasted a few months. It's said he broke up with her due to their age difference.
8. Chord Overstreet
If they actually dated, Chord Overstreet would have been the second "Glee" star Swift got her hands on.
They were seen having dinner and going to an LA Kings game together, but he denied there was something between them. But, hey, it's hard to trust anyone these days -- especially when it comes to TayTay.
9. Garrett Hedlund
HE IS SO DREAMY.
Garrett Hedlund and Taylor Swift had a dinner date in Nashville after exchanging emails (~modern romance~), but guess things didn't work out because they were never seen together afterward.
10. Harry Styles
OK, nobody actually forgets this ever happened. But Harry Styles will forever be a legend for throwing shade back at Taylor Swift with these lyrics to the One Direction song "Perfect,"
And if you like cameras flashing every time we go out, Oh, yeah And if you're looking for someone to write your break-up songs about Baby, I'm perfect
Harry can deny it all he wants, but it's pretty obvious who those lyrics are about.
11. Connor Kennedy
Taylor Swift was almost a certified cougar (kidding) for dating this 18-year-old fresh out of high school. She even bought a house next to the Kennedy compound while they were dating.
I don't know how or why, but this relationship definitely blew up more than the others. People really liked them together, even his family.
As a serial dater myself, I'm definitely not bashing the girl for dating a lot of guys.
She's young and beautiful, and anybody who's in the dating game right now knows exactly how hard it is.
All I am sayin' is if she keeps dating musicians, she's not gonna be the only one who's singing about the relationship.
Citations: Taylor Swift May or May Not Have the Hottest Ex-Boyfriend History of All Ex-Boyfriend Histories (Marie Claire)