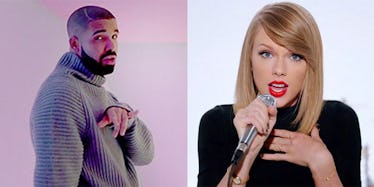 Drake Introduced Taylor Swift To His Mom And All His Fans Are Crying Inside
YouTube
Drake and Taylor Swift might be dating and I am not OK.
There's an insane rumor going around saying the Views rapper and 1989 singer are an item after the two were seen "intimately flirting."
OH, HELL TO THE NO.
According to Page Six, a source also saw Drake and Taylor "talking closely and laughing" at his 30th birthday party. Apparently, "the only person he spent more time with other than his mom was Taylor."
EVERYONE SHUT THE FUCK UP RIGHT NOW.
The thought of Drake and Taylor Swift kissing and holding hands makes me want to stab my eyes out.
He's supposed to be with Rihanna, and Taylor... well, SHE'S SUPPOSED TO DROP AN ALBUM.
There is no time or room in this world for them to fall in love.
However, new info suggests their fling might be more serious than we thought. Drake introduced Taylor to HIS MOTHER and let them have some time together.
MEETING THE PARENTS ALREADY? DA FUCK, DRAKE?
Can't you guys do something more casual like grab dinner and a movie first? WHAT'S THE RUSH?
Sources told TMZ Taylor also met Drake's friends at his birthday bash.
I repeat, I am not OK. And neither are Drake's fans.
Many people on Twitter seemed pretty upset over the idea of Drake dating Taylor Swift.
AND CAN YOU BLAME THEM?!
Seriously, there is no doubt in my mind the world would end if Drake and Taylor date. We would all blow up and die.
(Not to be dramatic or anything.)
The only positive thing that would come out of this relationship is an epic collection of break-up songs. Drake and Taylor would provide us with enough sad music to last a lifetime.
Hmm, I do need a new song to listen to while I cry over my ex...
NO, SHUTUP, KATIE.
Drake and Taylor, please stay very far away from each other. If you date, I die, and right now I'm really enjoying my life.
Citations: Taylor Swift Met Drake's Mom (TMZ)