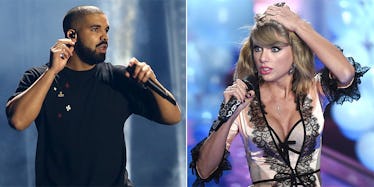 There's A Theory Taylor Swift And Drake Are Dating And We Hate It So Much
REX/Shutterstock
Mark my words: If Taylor Swift and Drake start going out, it's a sign of the fucking apocalypse.
I'm not talking about a cute zombie apocalypse like "The Walking Dead" or "28 Days Later." I'm talking about the full-on biblical apocalypse Jesus warned us all about.
The one where horsemen come down with lightning swords and demon cavalry as they destroy everything on this planet, men are ripped apart by fire-breathing rottweilers, women are dragged through the mud while chained to the skeletons of their ancestors and babies are just straight-up PUNTED by Azazel.
This will all happen if Taylor Swift and Drake go out -- a reality that was nothing more than a spooky tale dads would tell their kids around a campfire after the younger children went to sleep until recently.
This is all so far just a fan theory, but the evidence to support Taylor at least having a crush on Drake is pretty big.
For starters, he's Drake.
This Drake:
Of course she has a crush on him. We all have a crush on him.
I'm a 27-year-old straight dude who would JUMP at the opportunity to go mouth-to-mouth with Drizzy.
Secondly, Aubrey recently had his 30th birthday party and Taylor Swift showed up.
Obviously, that's not the most damning evidence, but she was performing the night before in Austin to an 80,000 person crowd. She would have had to book it back to LA right after the show in order to make it to the party.
Plus, she showed up the event in this thing, which might as well have been a flashing neon sign reading "DRAKE, STFU AND LOOK AT ME. LEZGET TO SMOOCHIN' LIKE HORNY CAPUCHINS (a kind of monkey that works well for this rhyme)!!"
Taylor is recently single and looking for a possible bit of buzz before she starts dumping out new music. So this would be a major get for her.
The real question is if Drake feels the same way. According to an inside source, he's definitely not NOT thinking about it.
Page Six says a source saw Taylor and Drake at the party, and they "were intimately flirting, talking closely and laughing. The only person he spent more time with other than his mom was Taylor."
FOR THE LOVE OF GOD.
WE DON'T NEED THIS.
I'D RATHER A TRUMP PRESIDENCY THAN FOR DRIFT (their legally binding official couple name) TO BE A THING.
Hug your loved ones a little harder tonight and pray for salvation. For, as is written in the bible (Isaiah 66:15-16),
For behold, the LORD will come in fire And His chariots like the whirlwind, To render His anger with fury, And His rebuke with flames of fire. For the LORD will execute judgment by fire And by His sword on all flesh, And those slain by the LORD will be many.
AKA: Taylor and Drake dating.