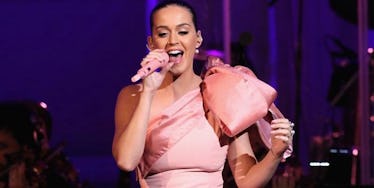 No Bad Blood? Katy Perry Apparently Invited Taylor Swift To A Party
Getty Images
Well… this is awkward.
In a recent interview with the New York Times, Katy Perry revealed she invited Taylor Swift to her pre-Grammys "Creators Party" this Monday night.
According to Perry, the party, which boasts a guest list of 250, is a way for artists and musicians to "connect" with one another in a relaxed environment.
Perry said,
You have to be a creator — it's artists, producers and songwriters… In some ways, I'm trying to start the Met Ball of music.
The party, which will be Perry's only link to the Grammys this year (she's skipping the actual awards show) will be sponsored by Spotify.
Despite Spotify's connection — or, perhaps, because of it — Perry invited former (or perhaps current) enemy Taylor Swift.
As much as I'd like to think this is Perry's effort to mend relations with the "Style" singer, it really just feels like their bad blood coming to surface.
The drama.
Read Perry's interview here and tune in to the Grammys Monday at 8 pm on CBS.
Citations: Katy Perry Invited Taylor Swift To A Party, Surprising Everyone (Refinery29), Katy Perry on Grammy Parties, a New Album and Keeping Calm Online (New York Times)