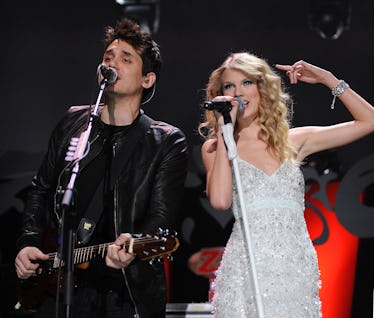 John Mayer Just Gave His Opinion On Taylor Swift's 'Reputation' Album In A Surprising Way
Bryan Bedder/Getty Images Entertainment/Getty Images
It's been a while now since I've thought about Taylor Swift and John Mayer. I mean, the two of them reportedly dated from November 2009 to February 2010, which was like a bazillion years ago. Things may not have ended on the best of terms, though, since Swift seemingly wrote a not-so-nice breakup song about him (at least if fan speculation about her track "Dear John" is anything to go by) and Mayer hasn't had the nicest things to say about her after their breakup either. But apparently, that's all water under the bridge now, because John Mayer's reaction to Taylor Swift's Reputation album is actually pretty supportive.
OK, so here's what happened: On Oct. 24, the "New Light" singer was performing onstage at the iHeartRadio Theater in Burbank, California. There was also apparently a little intimate question and answer session, where, according to Us Weekly, John started talking about his own reputation.
"I was thinking about reputation…" he reportedly told the crowd.
Now, since Reputation is also the name of Swift's most recent album, an excited fan apparently started shouting out, and you know what? I probably would have, too. But then Mayer quickly clarified that he was not, in fact, making a subtle reference to T. Swizzle's record.
"Not the album," he said. "But it's fine. It's a fine piece of work."
Way to take the high road, man!
It's an interesting turn of events considering Mayer's past reaction to Swift's song "Dear John," which appeared on her best-selling 2010 album Speak Now and had fans speculating it was about Mayer. I mean, they did date prior to its release, and his name is right there in the title.
Check out some of the lyrics:
Dear John, I see it all now that you're gone. Don't you think I was too young to be messed with? The girl in the dress, cried the whole way home. Dear John, I see it all, now it was wrong. Don't you think nineteen is too young? To be played by your dark twisted games, when I loved you so? I should've known.
Dark, twisted games? So intense, T!
Swift never confirmed if the track was, in fact, about Mayer, but he seems to agree with fans that it was. Not surprisingly, Mayer dissed the tune to Rolling Stone back in 2012.
"It made me feel terrible," he told the publication at the time. "Because I didn't deserve it. I'm pretty good at taking accountability now, and I never did anything to deserve that. It was a really lousy thing for her to do. I never got an e-mail. I never got a phone call. I was really caught off-guard, and it really humiliated me at a time when I'd already been dressed down. I mean, how would you feel if, at the lowest you've ever been, someone kicked you even lower?"
Not good. Not good at all. And Mayer's "Dear John" take-down didn't stop there.
"I will say as a songwriter that I think it's kind of cheap songwriting," he continued. "I know she's the biggest thing in the world, and I'm not trying to sink anybody's ship, but I think it's abusing your talent to rub your hands together and go, 'Wait till he gets a load of this!' That's bullsh*t."
I gotta say, I kinda agree. But does Mayer's supportive reaction this time around mean his wounds have finally healed?
I sure hope so.