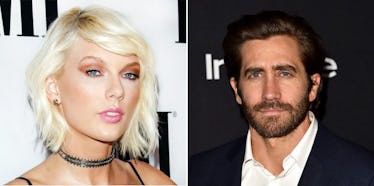 Maggie Gyllenhaal Responds To Taylor Swift's Song About Jake Gyllenhaal & It's Awkward
Mark Davis & Alberto E. Rodriguez / Getty Images
It's hard to say if this has been the summer of Taylor Swift or the summer we all turned on Taylor Swift. The seasoned singer/songwriter ignited controversial flames over her latest single, "Look What You Made Me Do," after a drama packed eight years, ever since Kayne West infamously "let her finish" at the 2009 MTV Video Music Awards. Since then, Tay-Tay has been reinventing herself, slowly leaving behind her whimsical curls and flowing dresses, trading them in for mini skirts, a short bob haircut, and attitude. We've all just been hanging on for dear life. Due to this, Maggie Gyllenhaal's comments on Taylor Swift leaving her scarf at her house while dating her brother Jake Gyllenhaal (way back in the day) come as sweet, sweet nostalgic relief in an otherwise confusing time to be a T-Swift fan.
Think back to simpler times. Taylor Swift was dating moody celebrity men much older than her dozens at a time. Between the John Mayers and the Eddie Redmaybes of the world, there was a magical, brief romance with Jake Gyllenhaal. These kind of fleeting relationships ended up being major building blocks in Taylor Swifts career, giving her tons and tons of inspiration to write hit after catchy hit. Jake was no exception.
It is said that her song, "All Too Well" is based on her relationship with Gyllenhaal. Back in 2012, Swift told Good Morning America it was one of the more challenging songs to write on her Red album:
'All Too Well' was the hardest to write because it took me a long time to filter through everything I wanted to say. It started out being a 10-minute song, which you can't put on an album. I had to filter it down to a story that could work in the form of a song.
Geez louise, Jake.
In it, Swift penned the lyrics,
I walked through the door with you, the air was cold / But something about it felt like home somehow / and I Left my scarf there at your sister's house / And you've still got it in your drawer even now
OK. We have the smoking gun. But what about the scarf?
At the time, eagle-eyed fans scoured the internet to find the scarf she might be referencing, and did not come back empty-handed. Images of both Gyllenhaal and Swift rocking the same black and white striped scarf are enough to make us all go, "Yup. Checks out."
If that doesn't say, "This song is definitely about Donny Darko," then I don't know what does.
So, what does Jake's sister have to say about it all? Maggie, can you help us all out?!
Jake's older sister Maggie sat down with host Andy Cohen on his show Watch What Happens Live on Tuesday, Sept. 12, when a fan wrote in asking her about the suspicious piece of clothing. Andy posed the question, "Is is true that Taylor Swift left her scarf at your house once?"
Her response was, well, not helpful.
She said,
You know, I never understood why everybody asked me about this scarf. What is this?... Hu. I am in the dark about the scarf. It's totally possible, I don't know. But everyone – I have been asked this before, and I've been like, 'What are you talking about?'
Maggie, please pay attention when an international pop star references you on one of her hits!
It's like she doesn't even care that her boyfriend's precious material goods are a literal cultural phenomenon. Still, better to be a part of the Red album than the latest Reputation album, if you know what I'm saying.
(IDK, guys, what am I saying?)
This post was originally published on Sept. 13, 2017. It was updated on Aug. 7, 2019 by Elite Daily Staff.