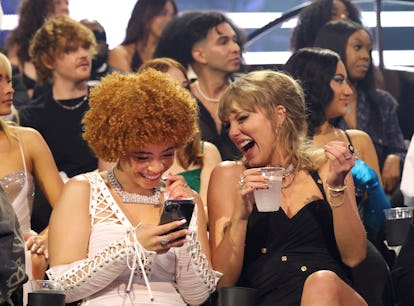 These Videos Of Taylor Partying At The VMAs Are Instant Classics
The real show wasn't on the stage at the 2023 MTV Video Music Awards — it was in the audience. Although she didn't give an official performance, Taylor Swift still stole the spotlight at this year's ceremony by drinking, dancing, and just fully letting loose throughout the night. Her carefree, over-the-top antics were immediately turned into memes, which fans will undoubtedly be using forever. Here are the best videos of Swift's most chaotic VMAs night ever.
Yes, Swift took home a ton of Moon People at the 2023 VMAs, but her real win was as the show's best audience member. In between passionate dancing, sipping cocktails, and cracking jokes with her fellow celebs, Swift won 9 VMAs, tying the record for the most VMAs won in one night. That's certainly a massive feat, but what Swifties will most remember about this year's ceremony is how much Swift let loose in the crowd. While on a monthlong break from her world-conquering Eras Tour, it's no wonder that Swift needed an excuse to unwind and enjoy being in the crowd rather than on stage for once. And luckily for fans, the MTV cameras caught all of Swift's most chaotic moments, which will now live on forever as the new go-to memes for Swifties when it's time to party.
1. Get The Party Started
Swifties knew they were in for an iconic night right off the bat, when Swift excitedly picked up a cocktail from the serving tray. It would be the first of many.
2. Partner In Crime
Swift's right-hand woman for the night was her seat-mate Ice Spice. The pop star made a few appearances on Spice's Instagram Stories throughout the night, giggling and joking around with the rapper, whom she's been close with since featuring on her "Karma" remix.
3. Choreo Queen
Swift turned up for pretty much every performance throughout the night, but she definitely seemed to be feeling Demi Lovato's set the most. During "Heart Attack," she enthusiastically acted out all the lyrics.
4. Ultimate Lovatic
Don't tell your mother... Swift proved she was cool for more than just the summer by vibing to Lovato's 2015 single.
5. Casual Panic Attacks
The peak relatable moment arrived when the cameras caught Swift nonchalantly telling Ice Spice, "Oh, I had a panic attack about it."
6. Taylena Forever
After Selena Gomez won the Best Afrobeats award for her collaboration with Rema "Calm Down," her longtime bestie Swift simply could not contain her excitement, cheering and blowing kisses to her friend.
7. A Director's Eye
Swift was especially emphatic when praising Doja Cat's theatrical performance. She was caught telling Sabrina Carpenter, "It's giving movie. It's giving cinematography."
8. The Fangirl Jumped Out
Like every millennial, Swift absolutely lost it when *NSYNC reunited on the VMAs stage. The boy band presented Swift with the award for Best Pop, and they even gave her some friendship bracelets to fully secure their Swiftie status.
9. Shakira, Shakira
Swift was fully feeling the Shakira fantasy when shaking her hips to "Whenever, Wherever."
10. A Hard-Earned Sip
One of the best Swiftie clips of the night caught the superstar struggling to get her drink out of the cupholder.
11. K-Pop Convert
Swift was clearly in awe during Stray Kids' performance of "S-Class."
12. Wayne's World
By the end of the night, Swift was fully primed to turn up for the finale hip-hop medly celebrating 50 years of the genre. She particularly enjoyed Lil Wayne performing his hit song "A Milli."
13. Montage Of Mayhem
In conclusion, the 2023 VMAs will go down in Swiftie history as one of the most unhinged nights of fun in the fandom.