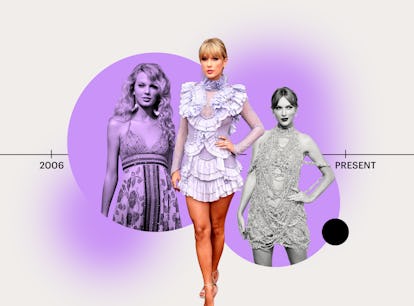 Taylor Swift's Style Evolution Has So Many Eras, Just Like Her Music
She's a Tennessee Stella McCartney.
Elite Daily; Getty Images
Over the past 17 years, Taylor Swift's style evolution has directly correlated with her ever-evolving sound. From country sweetheart to pop sensation, rebellious rockstar to cottagecore queen, the 11-time Grammy winner has had more fashion — and music — eras than any other musician in her generation.
Throughout her career, Swift has been a chameleon of sorts. Each of her albums is defined by its own unique sound and aesthetic. The re-emergence of a new album and, subsequently, a new Swift, is reflected in every element of her exterior persona from her music videos to her red carpet fashion choices. Whether it be the heat-styled curls and cat eye makeup of her Speak Now era, the blunt bangs and pinstripes of her Red era, or the vampy lips and bold bodysuits of her Reputation era, she is a style shapeshifter.
In 2006, 16-year-old Swift made her country music debut with the hit single "Tim McGraw'' and her sequential self-titled album Taylor Swift. Known then for her signature blond curls, cowboy boots, and sweet disposition, the singer-songwriter soon became a household name. However, as time progressed, she began drifting away from her country roots and experimenting with an array of different genres, each with its own corresponding look. Since then, Swift has released nine more studio albums (ranging from country to pop to folk), broken countless records, and continues to go down in history as one of the most decorated and transformative musicians of all time.
As you're in the midst of your Eras Tour concert movie rewatch and 1989 (Taylor's Version) listening sessions, take a look at Taylor Swift's style evolution from 2006 to now.
This article was originally published on