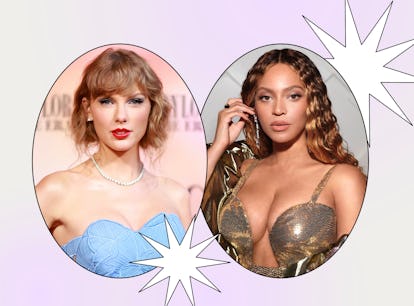 Taylor & Beyoncé Blessed Us All With Another Pic Together
Swifties and BeyHive, unite. There's no denying this year, especially the summertime, belonged to Taylor Swift and Beyoncé. The two pop stars turned their tours (Eras and Renaissance, respectively) into cultural phenomenas, encouraging most of the world to slip on their finest silver and stacked friendship bracelets. As if their record-smashing shows weren't enough, the duo recently added more buzz to their names. Both superstars released concert films at the end of the year, and as a show of support, they made sure to show up to one another's premieres. Ugh, their power.
Similar to fans, who are already crowning this moment as their Roman Empire, Swift couldn't hide her excitement when Beyoncé attended her The Eras Tour film premiere on Oct. 11. The duo were all smiles on the red carpet, and wore pieces that matched their tours' aesthetic. Swift wore a 1989-blue Oscar de la Renta gown while Beyoncé stunned in a black bodysuit adorned with a silver breastplate.
As an extra touch, the 1989 singer then gave Beyoncé her flowers on Instagram. "I'm so glad I'll never know what my life would've been like without Beyoncé's influence," Swift began the post, which sees the two stars posing in the theater. "The way she's taught me and every artist out here to break rules and defy industry norms. She's been a guiding light throughout my career and the fact that she showed up tonight was like an actual fairytale." BRB, sobbing.
To return the favor, Swift flew to London to walk the red carpet at Beyoncé's Renaissance film premiere a month and a half later on Nov. 30. Swift showed her Renaissance fandom by dressing in the concert's signature dress code, sparkling in a silver gown. Swifties also noticed that part of the dress may have been an Easter egg teasing Reputation (Taylor's Version), as a snake-like accoutrement was spotted on one of the dress' straps. Fans also compared the outfit to her look in the "Look What You Made Me Do" video.
The next day, Swift posted a powerful photo of her and Beyoncé posing together at the event. "Got invited to London by The Queen," Swift captioned the shot.
This isn't the first time the two stars have supported one another. Although they got off to an infamously rocky start thanks to one rapper, they've become been each other's biggest cheerleaders over the past decade of successes. From dominating stadiums (and now, cinemas) together with their sweet interactions at award shows, here's a timeline of Beyoncé and Swift's friendship.
September 2009: Beyoncé Let Taylor Have Her VMAs Speech Moment
The 2009 MTV Video Music Awards still feels like a fever dream. That year, Beyoncé's "Single Ladies" and Swift's "You Belong With Me" were nominated for Best Female Video. Swift won the award and was in the middle of her acceptance speech, when Kanye West notoriously interrupted her to praise Beyoncé. Later that evening, Beyoncé won Video of the Year, and she invited Swift back on stage to finish her speech. This heartfelt moment opened the door to more interactions between the two.
December 2014: Beyoncé Attended Taylor's 25th Birthday Bash
Swift's 25th birthday was one for the books. On Dec. 12, one day before her birthday, she was named Billboard's 2014 Woman of the Year. She then celebrated by performing at iHeartRadio's Jingle Ball (such a slay) and throwing a party at her New York apartment. Many celebrities attended the celebration, including Beyoncé and JAY-Z.
The couple (and Beyoncé alone) took a few photos with Swift, including this iconic shot with HAIM and Karlie Kloss. Fans thought Beyoncé and JAY-Z's appearance was interesting, considering Kanye West and Kim Kardashian's wedding was on the same day. Swift and West — who once had a close relationship with the Carters — were deep in their feud at the time, so seeing the couple living it up with Swift had social media gagged.
February 2016: Beyoncé & Taylor Shared A Backstage Grammys Moment
Another year, another award ceremony. The two stars attended the 2016 Grammys, where they were seen all-smiles backstage. The duo also shared a hug, cementing their friendship was still going strong.
March 2021: Beyoncé Celebrated Taylor's Grammy Win With A Few Gifts
It seems Swift and Beyoncé's sweetest interactions happen during award season. It makes sense, as singers tend to receive the heaviest accolades from their industry peers during this period. That year, both singers took home Grammys: Swift won Album of the Year for Folklore while Beyoncé accepted four trophies, becoming the most celebrated female artist in the awards show's history.
Shortly after the ceremony, Swift revealed the Renaissance star sent her a bouquet of flowers and a card on Instagram. "Woke up to flowers from the queen of grace & greatness Beyoncé and suddenly it's the best Friday EVER," Swift wrote on her Stories. "Thank you B and congrats on your epic achievement Sunday night!"
April 2021: Taylor Sent Beyoncé A Sweet Message For Her 40th Birthday
In honor of Beyoncé's 40th birthday, Harper's Bazaar compiled a few messages from her peers — including Swift — in a video. In Swift's clip, she honors her for "paving the road" that every female artist is walking down now — a sentiment that echoes her recent praise of Beyoncé's legacy. "To say I admire you — there's just not a word for it," Swift ends the clip.
October 2023: Beyoncé Made A Surprise Appearance At Taylor's Eras Tour Premiere
Since Swift's sweet message, the duo have shared many other interactions. However, this one truly hits home. During Swift's two-month break from the Eras Tour, the singer's been in her cinema bag. In August, she announced her new concert film, which reimagines her eras-spanning tour on AMC's big screen. The film was originally slated to release on Oct. 13; however, it premiered a couple days earlier in L.A.
Beyoncé, alongside many other celebrities, attended the film's premiere. Her appearance warmed fans' hearts, as the "Alien Superstar" icon will release her own concert film for Renaissance in December. Besides praising her on Instagram, Swift also fangirled over their interaction on TikTok.
"My soul = broken. In the best way possible," Swift wrote in the video's caption, which features Beyoncé's "Halo" in the background. "Honestly can't even remember my own name."
November 2023: Taylor Made An Appearance At Beyoncé's Renaissance Premiere
Swift and Beyoncé shared another red carpet moment at the Renaissance: A Film by Beyoncé London premiere, which Swift posted to Instagram. Swift dressed on theme with a sleek silver dress, and Beyoncé sparkled as well with a crystal-studded black dress and platinum-blonde hair.
This article was originally published on