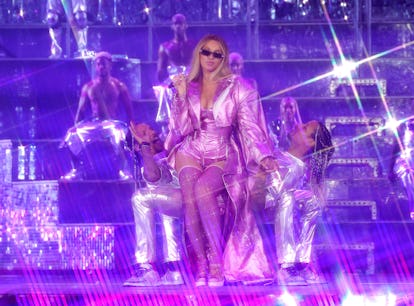 Beyoncé Promises "The Renaissance Is Not Over" In New Film Trailer
Ummm, is she teasing Act 2?!
Everyone's favorite alien superstar isn't beaming home just yet. On Oct. 1, after seven months on the road, Beyoncé finished her Renaissance tour in Kansas City, Missouri. This final stop felt bittersweet to fans, as this tour was a mesmeric reminder that she's still a titan in the game. Beyoncé consistently commanded the stage on this tour, so much so that it felt criminal to miss a show. Luckily, the singer's giving fans another opportunity to witness her excellence: She's bringing Renaissance (and those long-awaited visuals) to AMC and Cinemark's big screens.
Beyoncé first debuted the trailer for her concert film, titled Renaissance: A Film by Beyoncé, during her Kansas City show. She then shared the teaser on Instagram. "Be careful what you ask for, 'cause I just might comply," the singer wrote in the caption, quoting her Renaissance cut "All Up in Your Mind." Even she knows those Renaissance visuals have been living rent free in fans' minds.
"When I'm performing, I'm nothing but free," Beyoncé began the two-minute teaser, which sees various shots of her preparing for the 56-date tour. She aptly defined Renaissance as "liberating," and that essence can be seen in the crowd's emotional reaction. Beyoncé also included some "mommy-mode" moments with her three children — Blue Ivy and 6-year-old twins Rumi and Sir — who have become staples on the tour.
The announcement of Beyoncé's concert film excited fans, as they've waited to see what the second chapter of her album has to offer — and most importantly, they've been clamoring for those year-long absent visuals. When the film's trailer dropped, Variety reported that the movie will include music videos shot for the Renaissance visual album, which have been teased but not released for over a year.
Upon the ticket release, fan's reportedly crashed AMC's official website. The high demand also caused the BeyHive to wait in a queue (*shudders in Ticketmaster*) for a few minutes. However, despite these setbacks, numerous fans were able to score tickets.
This isn't Beyoncé's first taste of the concert film life. In November 2007, she breathed life into her Dangerously In Love and B-Day albums for her Experience Live movie. Then, 11 years later, she documented her historic Coachella performance in 2019's Homecoming: A Film by Beyoncé. With this iconic history, her Renaissance film will certainly be one for the books.
Clear your schedules, because it's time to see Beyoncé live out her house diva dreams.
The Movie Is Coming Soon
Beyoncé's concert film will be released on Dec. 1. The film will be shown in multiple theater chains (AMC, Regal, and Cinemark) throughout North America, with Cinemark hosting a pre-show on Nov. 30.
The Trailers Are Out Of This World
As Philly ballroom star Kevin JZ Prodigy coos in the trailer: "Welcome to mother's mind." The two-minute trailer offers glimpses of Beyoncé's Virgo tendencies (and groove) in full form. These exciting clips match up to the film's press release, which reveals the film is about the singer's "intention, hard work, involvement in every aspect of the production, her creative mind and purpose to create her legacy."
On Nov. 9, a second trailer dropped. The new clip included some standout moments from the tour that still have the Beyhive buzzing. For instance, the moment Bey told her crowd, "You are the visuals" amid the anticipation for her to finally release the Renaissance music videos.
Another key moment is Beyoncé proclaiming, "The renaissance is not over," which could be a reference to the long-rumored Renaissance Act 2 that fans are convinced the singer is hiding.
Get Those Tickets
Tickets, which are already on sale, can be purchased on AMC, Regal, and Cinemark's official websites. Adult tickets are priced at $22. As for global screenings, those dates will reportedly be announced at a later date.
This article was originally published on