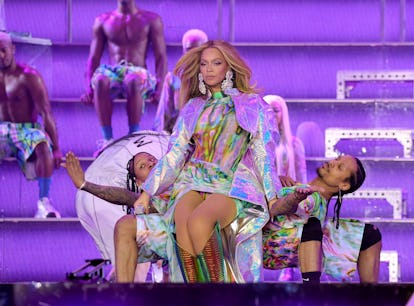 The Beyhive Spotted An Easter Egg Revealing When The Renaissance Visuals Drop
Hold up, because this is actually v convincing!
Kevin Mazur/Getty Images Entertainment/Getty Images
The wait for the Renaissance visuals has been long and exhausting for the Beyhive. Then the album dropped on July 29, 2022, many fans expected a full visual album to arrive with it or shortly afterward, as that had become Bey's new tradition. But almost a year later, Beyoncé has yet to bestow even a single music video from Renaissance upon her fans. There's still hope, though. Now that Beyoncé has kicked off her Renaissance World Tour, everyone's waiting for an announcement, and one tour detail has already sparked a convincing theory that the visuals drop is coming very soon.
Bey first teased a cinematic companion to Renaissance in a quick clip a couple weeks after its release. Her three prior albums all included a "visual album" to go along with the music, but the Beyhive is still waiting on Renaissance to get that same treatment. Her tour showed off a few new snippets of the album visuals, but not many. However, the tour may have given fans a super subtle but potentially major clue about when to expect the music videos. The important clip is a cybertronic interlude that plays during one of Bey's costume changes in the show. The so-called "Motherboard" video flashes strobe-y images of Beyoncé as the queen of cyberspace.
Eagle-eyed fans noticed that the numbers repeating most often in the clip were the exact latitude and longitude of Paris, France. The clip also seemed to show a countdown to 6 a.m. — 6 a.m. Paris time would equate to midnight ET, when new music release almost always drop. The theory? That Beyoncé is planning to drop her Renaissance visuals at midnight on May 26, during her concert in Paris.
There are a lot more reasons to believe this theory than just the flashing numbers, mostly due to how deeply the album is connected to Paris. "Renaissance" itself is a French word, and a historical period that revolved around cultural milestones in Paris. The city is also name-checked in the 1990 documentary Paris Is Burning, which is considered seminal in capturing the underground ballroom culture that heavily inspired the sound of the Renaissance album.
So, mark your calendars, Beyhive, but if this theory proves true, then the Renaissance visuals will be breaking your soul before the end of May.