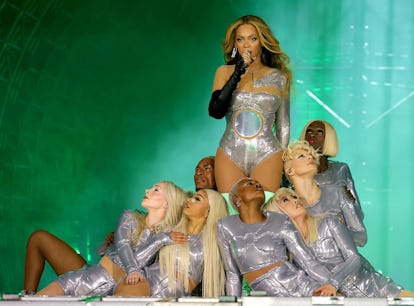 Beyoncé's Renaissance Tour Setlist Proves She's An Alien Superstar
It's three hours of newer tracks, classics, and surprises.
Kevin Mazur/Getty Images Entertainment/Getty Images
Remain calm: the queen has finally arrived. After months of suspense and fevered anticipation, Beyoncé kicked off her Renaissance tour in Sweden on May 10. With this being the singer's first tour since 2018, fans wasted no time in scoring tickets and building their own dream setlist of gems she might perform. With her impressive discography of slow-burn ballads and pop-centric bops, the thought of choosing a perfect selection of songs might seem intimidating. However, in typical Beyoncé fashion, she delivered an iconic setlist that ran for three hours.
The opening night turned out to be a spectacle for in-person and online fans. Within minutes of the show's beginning, nearly thousands of people scrambled to find livestreams on TikTok and Instagram. While some ran into roadblocks (certain streams apparently ended before fans could watch it), many hit the jackpot and live-tweeted the entire show in awe. But, here's a heads-up for those looking to tune into a livestream for the tour: fans will be channeling their inner diva, so you might hear them singing louder than Beyoncé on stage.
As expected, Beyoncé performed the entire Renaissance album — but in a jumbled order. Instead of performing back-to-back tracks, she sprinkled in hits spanning from her debut Dangerously In Love to 2019's The Gift soundtrack. She even dipped into her cult classic B-Day, though she performed the least amount of songs from that album compared to Lemonade and 4. This overall mixture gave Renaissance room to breathe and added a bit more adrenaline to those newer tracks once she sang them.
Check out Beyoncé's full Renaissance tour set list below:
"Dangerously in Love 2"
"Flaws and All"
"1+1"
"I Care"
"I'm That Girl"
"Cozy"
"Alien Superstar" / "Sweet Dreams"
"Lift Off"
"7/11"
"Cuff It"
"Energy"
"Break My Soul"
"Formation"
"Diva"
"Run the World (Girls)"
"My Power"
"Black Parade"
"Savage (Remix)"
"Partition"
"Church Girl"
"Get Me Bodied"
"Before I Let Go"
"Rather Die Young"
"Love On Top" / "I Want You Back"
"Crazy in Love"
"Plastic Off The Sofa"
"Virgo's Groove"
"Naughty Girl"
"Move"
"Heated"
"Thique"
"All Up in Your Mind"
"Drunk in Love"
"America Has a Problem"
"Pure/Honey"
"Summer Renaissance"
This dizzying (in the best way possible) show had a couple of surprise moments, too. During her performance of "1+1," the singer eased in a cover of Mary J. Blige's "I'm Goin' Down." She also performed her buttery rendition of Etta James' "I'd Rather Go Blind," which she covered in 2008's Cadillac Records. All the singer needed was a platinum blonde pixie cut; however, her honey-brown tresses did the trick this time.
Elsewhere, she continued revving up the engine with transitions. After doing her infamous plane dance during "Diva," she slickly bounced into "Just Wanna Rock" by Lil Uzi Vert. Don't let Beyoncé's lack of social media presence fool you — the star will always know a viral dance or two.
Then, while performing her octave-climbing "Love On Top," she surprisingly threw in the backing melody of Jackson 5's "I Want You Back." That specific performance was a moment in itself, as the crowd nearly struggled to follow the track's note changes. Don't worry, Beyoncé certainly noticed.
Overall, the structure of this setlist is glorious, especially for those who want a taste of her entire discography. Oh, Beyoncé. You'll always be famous.