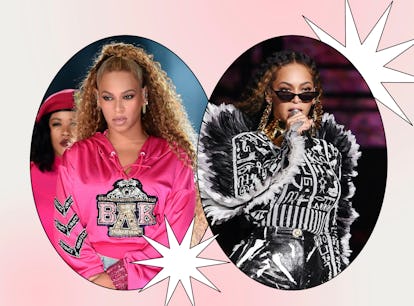 Beyoncé's Live Shows, Ranked By How Badly I Wanted To Be There
I'm dangerously in love with these performances.
Kevin Mazur/Getty Images Entertainment/Getty Images, Kevin Mazur/Getty Images Entertainment/Getty Images
When Beyoncé flexed that she's an otherworldly "mastermind" on "Alien Superstar," that wasn't for show. That braggadocious flare speaks volumes to her status as a pop icon, a title she's preserved for more than a decade. The Houston-born singer knows how to breathe life to her music in a live performance, and you can feel that skill through the screen. As someone who has never seen her in concert before, the creative vision and tenacity she brings to the stage always leaves me in awe — and I sometimes question if she's even a human being. But now (not to flex), I'll get to experience her star power live.
On Feb. 1, Beyoncé shared the dates for her upcoming Renaissance tour. Many shocked fans reacted to the news on social media, with some even noting their willingness to drop some big bucks for a seat. Others (including me) registered for specific cities in the tour's lineup and were able to score tickets, despite doubting that Ticketmaster wouldn't be able to handle the storm that is BeyHive. Renaissance has been on a constant loop for me since last summer, so to know I'll witness bops like "America Has A Problem," "Virgo's Groove," and "All Up In Your Mind" (which receives so much undeserved flack) live has my brain spiraling.
Of course, with excitement comes a little saltiness. Some online crowds voiced how they weren't excited about the upcoming shows, mainly because they're not fans of Beyoncé's work. Meanwhile, others believe that an artist of her stature should no longer tour and could support Renaissance in a different way. Recently, music journalist Toure sparked controversy on Twitter for echoing a similar statement, suggesting that Beyoncé being "super wealthy, a mother, and not young" are qualifiers to sit out an extensive tour.
It's always jarring to see people get riled up about Beyoncé, or have problematic takes, like Toure's. Beyoncé rarely hits the road, and when she does, she serves up performances with nearly flawless vocals, complex dance routines, and sets that visually look luxe enough to belong in the Louvre. Who wouldn't want a piece of that experience?
In honor of her Renaissance tour, here are 10 live performances from Beyoncé that live in my head rent free.