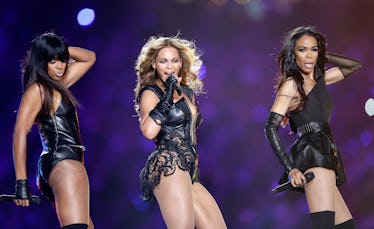 Twitter Is So Excited About The Destiny's Child Reunion At Coachella, & Same
Ezra Shaw/Getty Images Sport/Getty Images
Saturday, April 14 was known as #Beychella when Beyoncé took the stage as the headliner for the Coachella music festival, and Queen Bey gave fans everything they could possibly want from a Beyoncé performance. Not only did she slay her (many) solo hits, but Beyoncé also treated fans to a few surprises during her time on stage. These tweets about the Destiny's Child Coachella reunion show that Twitter is pumped about this throwback performance.
I'd like to make it clear that I am nothing but grateful whenever I can see Queen Bey in concert (in person or online), but I'd be lying if I didn't admit a little part of me is always hoping for a Destiny's Child reunion whenever Beyoncé performs. I mean, the late '90s and early '00s were filled with Destiny's Child hits like "Bills, Bills, Bills" and "Independent Woman," and Destiny's Child is the one of the reasons we even know Beyoncé (and all of her greatness) at all today. So, when Kelly Rowland and Michelle Williams joined Beyoncé on stage at Coachella on Saturday night, I nearly lost my millennial mind.
From the responses about the reunion on Twitter, it seems like I have plenty of good company when it comes to freaking out over a Destiny's Child reunion.
"No lie. Destiny's Child put on A GOOD PERFORMANCE! Beyoncé, Kelly & Michelle nailed their parts."
"IT'S DESTINY'S CHILD ... This Coachella is historic!!"
"I love how Beyoncé always shares her monumental moments with Destiny's Child, those are her sisters man. A humble and generous Queen!!"
"God bless Coachella for giving Beyoncé a longer set than the Super Bowl did so we could finally get the Destiny's Child reunion medley we deserve."
"Waking up to find out Beyonce brought out Destiny's Child at Coachella. Today is cancelled."
"Beyoncé came back with MF Destiny's Child, I'm gone."
"Beyoncé really reunited Destiny's Child. She is not playing tonight."
"Destiny's Child is back to remind you that none of the kids today even know what HARMONIES are."
The group reunited during Beyoncé's headlining performance, and they gave fans everything they could ever want from a reunion as they sang "Lose My Breath," "Say My Name," and "Soldier."
Seeing as though the reunion happened well into the performance, some fans were pleasantly surprised to see the three of them together again.
"She brought out Destiny's Child an hour-and-a-half into the performance, and she still has more."
From the first words of "Lose My Breath" when Bey says "Hit me," Destiny's Child fans knew they were in for a treat.
"Destiny's Child: 'Hit me!'"
"...when Destiny's Child come out and I hear "hit me" and the drum rolls, I'm gonna lose it."
"Me as soon as I heard that 'HIT ME.'"
"Woke up to the video of Destiny's Child from Coachella - heard that 'hit me' and ...."
Of course, the Destiny's Child reunion was just one of the many highlights (and cameos) from Beyoncé's Saturday night performance in the California desert. Bey also performed the 2012 hit "Deja Vu" with hubby JAY-Z, and Beyoncé's sister Solange also joined her for a must-see dance routine to Beyoncé's 2006 hit, "Get Me Bodied," according to Vulture.
Beyoncé performed all the fan-favorites, and she made sure to acknowledge how historical this performance was. According to Billboard, Beyoncé said, "Coachella, thanks for allowing me to be the first black woman to headline." Bey also used her historic platform to represent Historically Black Colleges and Universities (HBCU) culture with her drumline and step performances and with her costume choices, according to Forbes.
It's really no surprise that Beyoncé ticked off every item from the Bey Hive's concert wishlist, and it's clear from Twitter response's that Beyoncé fans will alway be here for a Destiny's Child reunion.