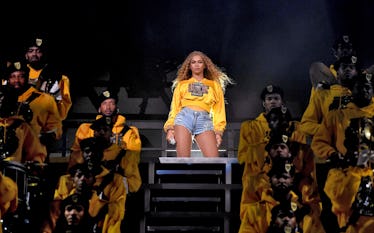 Beyoncé's Coachella Performance Was Fire & Twitter Can't Get Over It
Larry Busacca/Getty Images Entertainment/Getty Images
As a spectator living 3,000 miles away from Indio, California, there is a lot to keep up with at Coachella right now. Between all of the trending foods, art installations, famous festival goers, and — most importantly — the incredible lineup of musicians, Coachella is definitely the event of the season. And if you didn't already get the chance to see Queen Bey tear up the stage live for one reason or another, these tweets about Beyoncé's Coachella performance show that she totally nailed it.
Since I happen to be a devout member of the Bey Hive, I'm probably a little biased. It's true, I love Beyoncé more than I love most people (that's just a fact of life). And even though Queen Bey kicks ass all the time, there was something indescribable about her Coachella performance; it was beyond remarkable. Bey seemed even more confident than ever before, her aura was super powerful, the set list was fire, and — unsurprisingly — she looked drop-dead gorgeous. Twitter is obviously high-key panicking (in the best possible way), and if you take a moment to watch the video of Bey's Coachella performance, you'll most likely likely feel the same.
"Beyoncé is the first black woman to headline Coachella, and it's basically a Beyoncé concert featuring a Coachella concert."
"The 'Drunk in Love' choreo was so LIT!"
"OK, so Beyoncé is an undeniable force. 20 years in the game and still fresh and captivating. Brilliant."
"Yeah, Beyoncé is beyond talent, we need a new word."
"Even when Beyoncé is not dancing vigorously, she's giving us Whitney Houston's level vocals. INSANE!!!!!!"
People were also very much here for a Destiny's Child reunion that included "Say My Name" and "Soldier."
"DESTINY'S CHILD ... Reunited last night."
"OMG 3:49 am #Beychella DESTINY'S CHILD."
"Destiny's Child is back to remind you that none of the kids today even know what HARMONIES are."
"I'm never getting over this Destiny's Child performance"
"She brought out Destiny's Child AN HOUR AND A HALF INTO THE PERFORMANCE and SHE STILL HAS MORE."
I don't know how you're feeling right now, but I'm finding each of these tweets to be incredibly relatable. Like much of the Twitterverse, I was in an excited frenzy while watching Bey kill it — and even though it aired hours ago, I am still so sweaty. So if you haven't already watched her perform, I highly recommend doing so. Not only will it make you feel all of the things, but you'll definitely want to strut your stuff afterwards. I really couldn't contain myself, and if I'm being real, I think Beyoncé won Coachella. Sorry guys, game over.
Another performance you may have missed was the set of Mason Ramsey, who you might know as the Yodeling Walmart Kid. After gaining fame in the last few weeks from yodeling in a Walmart in Illinois, the 11-year-old singer became one of 2018's most unique and unexpected internet stars. The young yodeler quickly moved on from performing in his local Walmart when he got a spot in the Coachella lineup. Pretty wild, right? Festival goers were super hyped about his set on Friday, April 13. If you happened to miss it, definitely make a point to watch the video. It's a sight to see.
If happen to be at Coachella right now, you're most likely dancing the day away, getting real sweaty, and taking lots of super cute pics. In the event you're not sure what to do about your makeup while you're out there, though, you can check out the Sephora tent at Coachella 2018. Tucked within the fairgrounds, the makeup superstore is currently providing free makeovers to absolutely everyone (not just VIP). So if your face isn't already painted or covered in glitter, you're definitely missing out. Make sure to get on that ASAP.
Anyway, Twitter is freaking out about Bey's performance, and if you've seen it, you probably will too. She is absolutely killing the game, in every way, shape, and form, and I am too excited to see what she'll do next. All of the performers, — Mason Ramsey included — are absolutely spectacular, and I have major FOMO right now, as you may have guessed. If you're currently dancing in the desert, please don't forget to take lots of pictures, get a free makeover, and most importantly — stay hydrated, y'all. Merry Coachella!