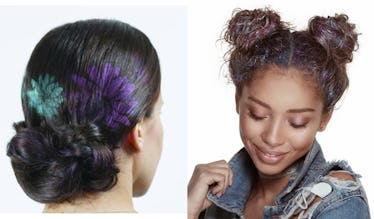 Sephora Is Giving Away Coachella Makeovers For Free & Every Single Look Is Straight Fire
While perhaps the most fun you'll have all year, music festivals can also be stressful, especially if you're someone who doesn't feel super comfortable doing your own makeup or hair in the desert. Which is why the Sephora tent at Coachella 2018 is so, so cool — tucked within the fairgrounds, the beauty oasis is providing free makeovers to all (no, you don't need to be VIP!), so everyone can look like a desert goddess. Will this be the most stylish Coachella to go down in history? Quite possibly, yes.
I've only been to Coachella once and I certainly didn't bring my A-game in terms of getting creative with my beauty looks. I tried to bring cute outfits but quickly learned that Dr. Martens and all-black everything don't mix so well with 95 degree weather. I ended up wearing white sneakers, jean shorts, and tank tops all three days and twisted lopsided top knots on my head. A swipe of mascara and quick once-over with chapstick composed my makeup look. Needless to say, I could have used a little help from the Sephora tent back in 2015.
This year, the beauty mega retailer has partnered up with a handful of brands to offer an array of hairstyles and makeup looks to choose from. From temporary tattoos and vivid hair colors to intricate braids and more, the services being offered are seriously rad. Each weekend has slightly different offerings, so I've broken them down with photos below for clarity.
Oh, and did I mention the Sephora oasis boasts air conditioning and Wifi? Yeah, it's definitely worth a pretty pit stop.
Coachella Weekend 1 (April 13-15)
The Bumble and Bumble Galaxy Hair Hotspot: If you want to turn your hair into a galaxy filled with tiny glittering lights, this is the style you'll want to go for. Wielding their Tres Invisible Dry Shampoo ($29; Sephora) and Thickening Dryspun Finish ($31; Sephora) products, Bumble and Bumble will braid your hair while intertwining a strand of colorful mini bulbs into it. Can you say major?
The HUSH DIY Prism Color Bar: Commitment phobes can create the custom temporary hair color look of their choice with HUSH Prism Airbrush Spray ($24; Sephora). From tie dye to silver and everything in between, no look is too bold. I'd opt for something like the above for an especially pink lemonade-esque, sun-drenched effect. Bonus: this service is offered both weekends of Coachella.
Coachella Weekend 2 (April 20-22)
The HUSH Prism and Color Counter: Utilizing HUSH Prism Airbrush Spray ($24; Sephora) and stencils, you can actually draw shapes on your hair, like you dreamed about in elementary school. Take a whole new approach to the festival mainstay flower crown.
Or perhaps opt for a galaxy of stars.
The Amika Bad AF Braid Bar: The best hairstyle to keep your hair out of your face/neck and still look epically festival-ready is braids, hands-down. Whether you want yours half up or half down, Amika's braid bar — featuring the Un.Done Volume and Matte Texture Spray ($25; Sephora) and metal hair rings — will figure out the most epic braids to suit your vibe.
Once you've been turned into the ultimate desert babe, you'll get to use Sephora's Selfie Playground to snap a shot of your new look. I can't wait to see what people come up with (FOMO, anyone?), so I'll be constantly refreshing IG for the highlights. Cheers to the start of festival season.