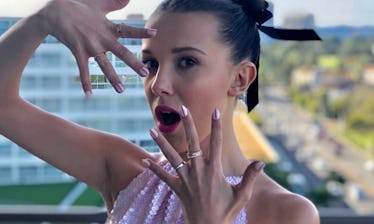 Millie Bobby Brown Just Slayed The Red Carpet In A 50-Cent Hair Accessory
Millie Bobby Brown is no stranger to rad red carpet looks. After turning it out with some edgy winged liner at the 2018 Golden Globes, she's showing her fashion maven depth with some soft, chic pink makeup and nails. Though her glam is everything, Millie Bobby Brown's SAG Awards Hair really takes the cake.
In case you're unfamiliar with the fashion and beauty queen of Generation Z, Millie Bobby Brown is a 13-year-old trendsetting risk taker that can absolutely do no wrong. In the past, she's sported ears full of silver hoops, a buzz cut, and poofy tulle dresses worthy of a prima ballerina. Now she's rocking the red carpet with a bold pink lip and a magical soft pink mani with graphic red details that is on the nail trend for 2018. Though her unexpected Converse sneakers do deserve an honorable mention, it's Millie Bobby Brown's hair that's really turning heads on the red carpet this time around.
In a sea of slicked back 'dos and soft Hollywood waves, Millie Bobby Brown is schooling us all by proving that beauty standards are meant to be broken. When was the last time you saw tiny space buns wrapped in black ribbons at any awards show?
When someone mentions red carpet hair, you might imagine the soft 40's-inspired curls of Dita von Teese or the pin-straight locks of Kim Kardashian West. But in reality, the red carpet, like any public platform for celebs, provides a chance to do something different and show fans that a homogenized standard of what is "flattering" or "expected" is boring.
On the SAG Awards 2018 red carpet, Mille Bobby Brown's hair was parted in the center and slicked back and up into two tiny buns. Around each bun, Millie Bobby Brown wears a Jennifer Behr Satin Bow Barrette ($128; shopbop.com). Jennifer Behr Satin Bow Barrette. It seriously gives off modern Minnie Mouse vibes in the best way and provides the perfect contrast to her light pink sequin dress. At age 13, Millie Bobby Brown knows that fashion doesn't need to be overly saccharine and feminine. She can balance a pink dress with sleek, rad buns and converse because literally why the eff not?
Plus this look is seriously so easy to recreate at home. Just head to your local craft supply store, buy the tiniest amount of black satin fabric, sew the edges so it doesn't fray (if you're fancy), and voila! You have the perfect hair accessory. Just slick your hair back with a tub of hair gel, secure the buns with an elastic, some (Millie) Bobby (Brown) pins, and you're good to go. It's definitely much less commitment than some of the other hair looks she's sported.
Remember when Millie Bobby Brown shaved all of her hair off? What an absolute queen. When I was a teen, I was highlighting my hair in attempts to fit in with the cool kids (spoiler alert, I didn't). However, Mille Bobby Brown is wise beyond her years and quickly learned a lesson that I myself am still learning.
As the actress herself stated, "I couldn't hide behind my hair anymore." Maybe that's why, now that her Eleven chopped locks have begun to grow out, she's so eager to try every style under the sun. Millie Bobby Brown has discovered that her hair doesn't make or break her and that beauty is an outlet we're meant to have fun with. It doesn't matter if one hater has something negative to say or if a Twitter troll goes on a rant. She doesn't care. All she cares about is inspiring others to do what they want with their appearances. TBH, maybe we should all take a lesson from MBB.