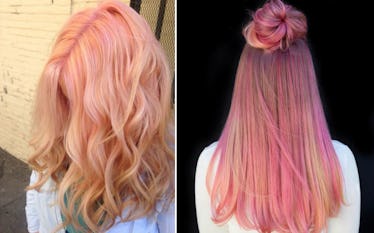 Pink Lemonade Hair Is The Most Refreshing Color Trend On Instagram
There's something about changing your hair color that makes you feel like a completely new person. If you're considering making a drastic change, you might want the check out photos of pink lemonade hair first. It's the newest hair color trend to take over social media and I am completely, over-the-top obsessed with it.
Back in the day, finding hair inspiration was much different. In order to decide on your next hair transformation or gather reference photos for your stylist, you had to sift through dozens of magazines, follow runway trends (although this was almost almost impossible to do 10 years ago) and creepily stare at people walking down the street. These days, endless inspiration sits in the palm of our hands at all times. I'm pretty sure my hair in high school would've been in much better shape if I had this much access to pretty hair pictures.
With Instagram, Pinterest, Twitter, and Facebook at our fingertips at all times, there's never a shortage of inspiration when plotting your next mane move. The latest trend in hair colors is making me (a girl with virgin hair) want to call my stylist and ask him to give me "Pink Lemonade hair" STAT. Just wait 'till you see it for yourself!
Social media is a strange place — we've seen the weirdest trends come from the beauty enthusiasts on every platform. On YouTube, we've experienced Huda Kattan slather Vagisil on her face on for smooth, long-lasting makeup and somebody create a mini sculpture of a pregnant Kylie Jenner on their nails. Instagram is where you go when you're looking for the next big hair color trend. It's usually a beautiful dye job with ribbons of dimension and is almost always named after some food or beverage. Remember "Vanilla Milkshake hair?" How about "Pumpkin Spice Latte hair?"
The drink to inspire the latest hair color is just as refreshing as an ice-cold pink lemonade on a hot summer day. It's exactly what you would imagine the color to be. "Pink Lemonade hair" is painted predominantly pink (ranging from a pastel shade to one that airs on the side of berry-like) with hints of peachy yellow woven throughout and even looks cool with dark roots. For those who always find variations on their beloved ombre dye jobs, you can go for pink on top and yellow-tinted blonde ends.
I'm so ready for spring! If I worked up the courage to completely transform my virgin hair to be Pink-lemonade perfection (which by the way, if I did, this would be the color I choose), all that would be left to do would be pouring myself a glass of the season's best thirst quencher and sit in the sun taking selfies of my brand-new 'do.
However, if you're actually considering getting the pretty pink hair color, keep in mind that it could take some serious work to recreate. If you are a dark brunette like me, it's a process to completely strip your hair of its natural color. And from what I hear, bleaching your hair can feel uncomfortable or even be painful and this can take hours. Aside from removing all traces of your natural color, it also take some work to add your new color, especially as strategically as these gorgeous photos.
And while I'm all about experimenting with DIY projects, this is certainly not a look that I advise you try to recreate in your bathroom. Seek the expertise of a professional on this one. Working with at-home beach and pastel-colored hair dye are bound to lead to some seriously scary end resuls. In the end, you'll spend more time and money trying to correct the problem. Trust me, it's better to save yourself the trouble.
However, don't let the process scare you out of trying the coolest hair color trend on Instagram — Rome wasn't built in a day. Besides, just think of how good it will look and how many compliments you'll get. Think of all the Instagram likes!
The best part about this look is how customizable it is. Sure, it's a popular trend, but how you personalize it is all up to you. If I were trying the look for myself, I'd go for dark roots (which also makes maintenance so much easier), pastel pink everywhere else, except for the ends, which would be just the perfect shade of peachy yellow. Or if you prefer, you can try incorporating pink and yellow highlights. The possibilities are endless.
I don't think I'll work up the courage any time soon to completely transform my hair (ugh! Pink lemonade hair FOMO!), but I will be living vicariously through the much more adventurous beauty junkies on Instagram. However, if I ever did decide to make a change, #PinkLemonadeHair would be the first hashtag I look up while sitting in the salon chair.