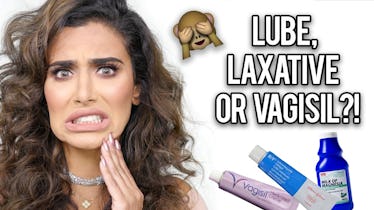 This Beauty Brand's New Primer Was Inspired By Vagisil & I Have Questions
Huda Beauty on YouTube
Huda Kattan is one of my favorites to follow on Instagram. Not only for her endless makeup inspiration, good looks, and sneak peeks on upcoming products, but for her willingness to try literally anything in the name of beauty. The latest wacky experiment made a serious case for Vagisil makeup primer (yes, that stuff that's meant to be worn... down there). She fearlessly slathered it on her face and applied her makeup as usual. And you know what? I'm actually thinking of trying it myself.
I've already expressed how much I hate when beauty aficionados, influencers, and makeup artists do ridiculous beauty tricks for the 'Gram. I don't really want to scroll through videos of girls using stilletos, stacks of money, rusty shovels, (seriously!) and bananas to create everything from a straight contour to a sharp cat eye. My biggest issue with this ridiculous beauty trend is that it's not in the name of better makeup, it's just all an attempt to get noticed on social media. There must be a better way!
However, on the other hand, I am all ears when it comes to secret tricks, behind-the-scenes tips, and unexpected hacks for achieving a better beauty look. If it just so happens to be weird, so be it.
Huda took to her super popular YouTube channel to put five out-of-the-box primer options to the test. She is already a fan of using olive oil because it's super nourishing and Nivea After Shave Balm ($5, Target) because "it has glycerin in it, which sets your makeup onto your skin and kind of melts with your makeup throughout the day." The other wacky options included lubricant, a feminine over-the-counter cream, and a liquid laxative. But why these? Similar to the ones Huda already loves, she says these have ingredients in them that can make your face look its best.
Nivea After Shave Balm, $5, Target
Lubricant
As she holds up the tube of lube, Huda tries to keep it together. You can tell how shy she gets every time she talks about it and even makes me giggle along with her. She explains her decision to try this random alternative to primer by saying it has ingredients "similar to a lot of silicone-based products out there" and "it does have glycerin in there." She applies it to one side of her face and mentions how soothing it feels. Because it's water-based, she recommends this option for girls with oily skin. After a few minutes, she notes that the lubricant has made her skin feel pretty hydrated.
However, once she begins applying her makeup, she notices that the lube starts to peel off. "If I [applied my makeup in] a stipple motion it was completely fine, but if I did any brushing, even after I applied powder [and] even just with a cream, it would rub off into little [pieces] almost like dead skin." Her final ruling wasn't good. She said, "it really didn't work very well." Thank god, because I wasn't feeling super excited about this one.
Laxative
Milk of magnesia is basically a white Pepto Bismol — you drink it when you have an upset stomach. She decides to apply it to her T-zone because it "has different types of qualities inside there that break down oils." As she first applies it, she makes comments like "it's actually kind of thick," and "it originally felt kind of hydrting and now it's feeling a little bit tacky."
After a few minutes she notes how tight her forehead feels. "It feels like my skin has a little bit of a film on top," then later adds "it feels a little bit powdery." After she applies makeup, you can tell she's loving how it's looking, though she does point out that it feels somewhat dry. I have super oily skin, so this is an option that I might be willing to explore, although she does allude to the fact that it looks cakey.
Feminine Cream
I don't even know where to begin by explaining this product, so I will just use Huda's explanation. It's a cream known for "stopping itching for women down there." *Insert blusing emoji here.* She busts out the tube applies it to her cheek and immediately seems pleasantly surprised. She does however mention that if you work up the courage to try this alternative, the option you choose "has to have dimethicone in it." As she goes in with a second layer, she talks about how good it feels on her skin. "It feels really creamy. It feels really soothing." She even admits, "I actually really like this one."
She applies her makeup on top of the Vagisil and says, "it feels so great. My makeup actually looks really great too. It looks like everything is setting in there really well." After wearing her makeup around for a while, she mentions that her skin feels hydrated and the Vagisil seems to be fighting oils. I'm sold! I'll just have to think happy thoughts when I crack open that tube.
Huda Beauty The Complexion Perfection Pre-Makeup Base Primer, $35, Sephora
If spreading vaginal cream (eeek!) on your face is where you draw the line, Kattan formulated a makeup primer to look and feel the same, without the icky mental pictures. Huda Beauty The Complexion Perfection Pre-Makeup Base Primer ($35; Sephora) has that same thick texture and works wonders at smoothing the look of pores and fine lines, not to mention it's hydrating and helps your makeup last all day long.