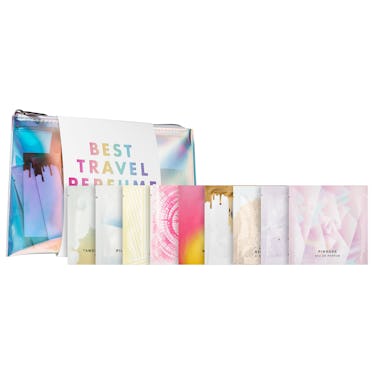 The 10 Best Beauty Products For Festivals, If You Want To Look Hotter Than The Desert
Sephora
Ever been at a music festival and looked in one of those cloudy, scratched up Porta Potty mirrors only to realize half your lipstick was smeared off or your eyeliner was melting down your face? Yeah, me too. This season, bring the best beauty products for festivals with you to ensure whatever fire look you'll spend time perfecting stays fresh, in place, and ready for those street style photographers. Because of their tiny size, these products won't make you feel bogged down while dancing (which you'll be doing a lot of during Beyoncé's headlining set at Coachella), or like you've got your entire bathroom cabinet in your bag. They'll even slide nicely into your fanny pack and take up minimal space, leaving plenty of room for your more utilitarian essentials, such as sunnies, a cell phone, and a wallet.
The other great part about mini products is that if you're heading to an out-of-state festival for the weekend, you can pack them directly into your carry-on without having to make sure they're under the TSA 3.4-ounce liquids limit. In fact, why not stock up a separate bag of minis solely for when you travel? It'll make packing a breeze.
I picked out the ~most~ useful and cool pint-sizes products below — from dry shampoo and lipstick to sunscreen and quirky stamps — so you can out slay the desert.
Swipe Right
Stay smelling fresh all day long by bringing along one of these 10 perfume wipes each day of the festival. Uber compact and incredibly convenient, they're way more festival appropriate than a mini glass rollerball fragrance.
A liquid lipstick with more than 380,000 hearts on Sephora's website is nearly unheard of, but the Cream Lip Stain Liquid Lipstick boasts just that. Marrying the pigment level of a liquid with the staying power of a stain, this is a one-and-done, apply-it-and-forget-it way to punch up your lips, and it's available in every trendy, desert-friendly hue under the sun.
Lashing Out
When you need to transition your look from day to night, this mini mascara wand packs a flirty punch into a tiny package.
Safety First
The singular most important beauty product you could bring to a sun-soaked festival is sunscreen. This oil-free, non-comedogenic lotion will protect your face and body from harsh rays without clogging your pores or causing breakouts.
Under Cover
As someone with acne prone skin, I always make sure to keep concealer on me for all occasions when I've put effort into my look. This mini one by Urban Decay is weightless and results in a high-coverage finish, meaning it won't feel overly gloopy on your skin.
Draw the Line
I love adding some unexpected color into my festival look via a bright, colorful liner. This mini violet version by Sephora would do the trick splendidly, and may I suggest trying it on your lower waterline? Captivating AF.
To Your Roots
Sweaty, greasy roots, begone! This mini dry shampoo absorbs oil, sweat, and odor to make hair look, feel, and smell clean, so go ahead and pull out all of your most insane dance moves. Once you're ready to stop whipping your hair back and forth between sets, this little guy will be there for a quick refresh.
Stamp Collection
The size of a pen, this little tattoo stamp is convenience and playfulness at its finest when it comes to makeup. Just pop off its lid, stamp the tip of it onto your body and watch a cute little stamp take home on your skin. You can get the stamp in an array of shapes — including a heart, moon, smiley face, and a star — so there's bound to be one that will fit your festival look.
Bright Idea
Shimmer all day and night long in the desert with this compact highlighter mini. It comes in four shades, from a pearly gold to peachy quartz, so there'll be one to fit whatever look you're going for.
Tat Girl Doe
The best way to stand out in a crowd of thousands? Sparkle, of course. These temporary tats, which come in a pack of three designs for only $8, offer a glittery effect that won't smear allover your face. Try a smattering of rose gold freckles across your cheeks; Sephora Collection combines two beloved trends into one absolutely stunning package.