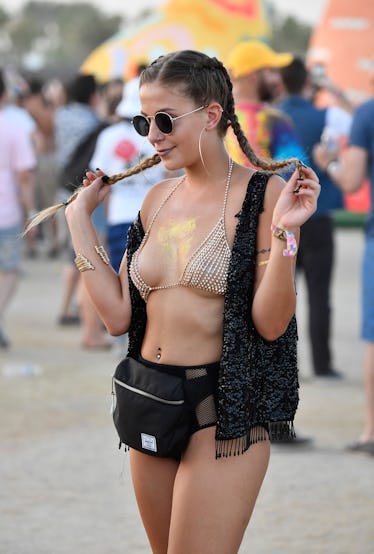 10 On-Trend Music Festival Bags That Are Cheaper Than A Replacement Phone
Frazer Harrison/Getty Images Entertainment/Getty Images
There's nothing worse than opening up your purse halfway through the first day of Coachella or TomorrowWorld and realizing one of your valuables is gone. Your stomach sinks, your palm hits your forehead, and you sputter a frustrated "WTF!?" Avoid that downer this year by investing in music festival bags with ample zippers, secure inner pockets, and strategic on-body placement that will collectively guarantee your belongings will stay safe. Because iPhones now cost $1,000 and I'd rather not choose between a roof over my head or my sickeningly addictive digital lifeline, thanks.
My passport; a new pair of Ray-Bans; two iPhones; my friend's iPhone; multiple credit cards; earrings; a zombie finger puppet — the list of things I have lost while worshipping my favorite bands could go on. Before I got smart about my belongings and became a responsible human being, I was basically the Gretel of music festivals; follow the path of dropped personal possessions and there I'd be at its end. After I lost said Ray-Bans, one of said iPhones, and said friend's iPhone all in one day (it was raining, I was two wine towers in, I wanted to cry), I vowed to never let it happen again. And thus, I started compiling a small selection of bags — including fanny packs, mini backpacks, and small crossbodies — that would keep my things on my body, no matter how enthusiastically I flailed-slash-danced. I haven't lost a thing since.
Here are ten options that merge style and security to add to your own festival wardrobe. They are all WAY cheaper than a replacement phone.
Highlight of Your Day
This fanny pack is by Patagonia, so you know it'll stand up to rain and wear and tear like a boss. It has an outside zip pocket where you can put your chapstick, sunnies, and other regularly used items.
Back at It
This bag is super mini so it won't kill your back and it boasts a cool print with a festive sheen. It's straps can also be detached and hooked on however you'd like, meaning it can turn into a crossbody and fanny pack.
Sun's Out
Not only is this bag a bohemian dream style-wise, but its main cavity also features a zipper closure, meaning nothing will be able to bounce out of it when you're making your way from one stage to another. It's roomy, chic, and made from vegan leather, to boot.
Old School
I think my dad owned this exact same belt bag in the '90s — I only wish he'd kept it for me to steal! It's roomier than most fanny packs and features two external pockets. In other words, there's plenty of storage space for whatever you might want to bring along aside from the necessities. Like zombie finger puppets.
Ring To It
This suede backpack is another great option for those of you with Cali desert style. It's mini and boasts a zip closure.
Quilt Trip
Another great belt bag option, this is a step up from the cloth fanny pack and comes in a great kelly green shade. The quilting and gold hardware render it a statement piece.
Classic.
This crossbody literally has "festival" in its product name. Enough said!
Cherry Baby
A simple crossbody with a zip closure and built-in credit card holders is always a good idea. Go with this red one for a kick of color.
Swoosh, There it Is
At $20, this mini Nike backpack is a steal. And thanks to its hot pink lettering, it's the perfect combination between festival and athleisure-chic.
Net Worth
Is this the most festival fanny pack on earth? I think yes. Wear it with biker shorts and a crop top and let the tassles fly.
Star Girl
If you're the friend who always ends up carrying everyone's water bottles, this mini backpack is for you. By Hunter, it's water resistant, boasts a ton of zipper compartments, and has padded straps for optimal comfort.
Fringe Benefits
It's fringy, it's suede, it screams Coachella.