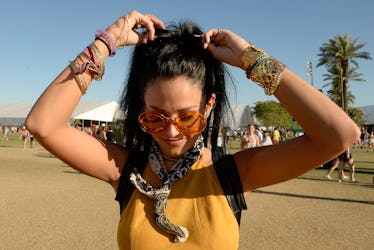 The Perfect Festival Look For You, Based On Your Zodiac Sign
Matt Cowan/Getty Images Entertainment/Getty Images
It's officially spring, but the only season that's really on my radar is festival season. April showers bring May flowers, and it's a good thing because I need all the daisies in the world for oh-so-chic and classic crowns. You've scrolled through the best street style looks from celebrities and fashion bloggers, and are going into it all with at least a couple of visions for social media. As long as your outfit includes a trendy pair of sunglasses to beat that warm sun, you'll be just fine. The best festival style for you is written in the stars, just in case you were having trouble pulling the pieces together. Those flower crowns are fashionable and all, but you need something more if you're going to get in front of the cameras.
A shopping trip with your besties is definitely needed so that you can scoop up all of the latest looks. Music festivals tend to be a weekend-long affair, so you'll need more than just one outfit (and not to mention some other unexpected things, like extra hair ties and a reusable water bottle) to make it through. And whether you're headed to Coachella or something quite similar, you'll want to be ready for the unofficial runway.
Go into it with your best mindset. Even a look with a little bit of edge will put you with the most fashionable in the festival crew. But, before you fill your bags, see what the universe has in store for your style this season.