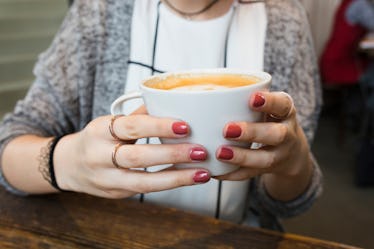 What Your Favorite Brunch Drink Low-Key Reveals About Your Personality
Jovana Rikalo/Stocksy
Oh boy, do I love brunch. There are not many things that make me happier than going to the diner on a Sunday morning and sipping on a cup of coffee with a plate of home fries on the side. The local spot is normally packed, but my besties and I never seem to mind. After all, everyone's just on the same mission to start their day off right — and we really can't blame them for loving breakfast food. Some order omelettes, and others are totally pancake people. From bottomless mimosas to a classic cup of coffee, your favorite brunch drink says the most about your personality, though. So, start thinking about what you're sipping.
Ron Swanson and Leslie Knope from Parks and Recreation really knew what they were talking about when they said not many things are better than breakfast food. Sure, I might not ever love waffles quite as much, and never order all the bacon and eggs — but I'm still incredibly passionate about the brunch game.
I would love to be able to eat endless amounts of French toast during the work week. Imagine how much better that would make Monday morning! But odds are, if you're brunching, it's on a weekend when you're out with your crew for only the best crepes. Your favorite breakfast drink then says a lot about how you choose to start the week, but also a lot about your personality. These 10 go-to orders will tell you everything you need to know.