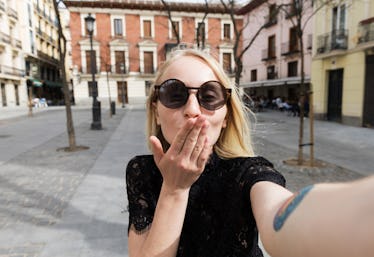 7 Traditions To Start With Yourself If You're Newly Single
Milles Studio/Stocksy
Being single is a fresh start. For some reason, the universe just saw so much more for you, and so it changed your course a bit. Sure, it can be scary and sad sometimes, but once you've felt all your feels, I hope you see it as a new beginning. Your inner compass might feel a bit cloudy, but you'll find yourself and bloom so beautifully when you do. Hang on tight. There's a lot of life to live and love to give, and your gut is telling you it's going to be good. There are so many traditions to start with yourself now that you're single. Truth is, adventure is so out there, and you should never settle for anything less than your best life.
Starting traditions with yourself might sound so incredibly cheesy or a little lame. But, hear me out. It's not signing yourself up for a life in solitude. It's giving yourself time and space to soul-search and learning to fall in love with life. Put on your favorite sweater and a pair of sneakers, because there's so much coming your way. You might even want to pack a passport. Who knows where you'll wander to?
Relationships will come and go, but you'll always have yourself. Finding your core and channeling it constantly is so important, especially in the single life — and these seven traditions will put the passion right back in you.