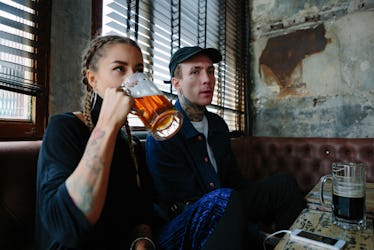 What You Can Really Tell About Your Crush, Based On Their Bar Order
kkgas/Stocksy
I'll take a tequila sunrise, please! Our mornings are meant for coffee, but when happy hour hits or the weekend comes around, many in the 21 and up crew make their way to the bustling bar scene. After a crazy week, it's nice to be able to live it up and dance until dawn. You want to stare into the dreamy eyes of your soulmate, not a screen! So, you pick out your cutest outfit and strike up a conversation over a couple of beers with your crush. Truth is, there are some things you can tell about your crush just based off of their bar order. So you really won't want to stay in this Saturday night. Take a rain check on the snuggle sesh and movie marathon, because it'll be so worth it.
Maybe you're ordering a drink during a romantic dinner, or hitting up the local spots with your significant other and your cool friend crew during a casual night out. Having a crush can be so nerve-wracking, but they had you at merlot.
There are thousands of drink orders in this world, so we'll stick to some of the more obvious signs. These 10 things will totally tell you more about your crush just from the liquor they choose to like. So, scroll down and drink up (if you're 21 and up, of course).