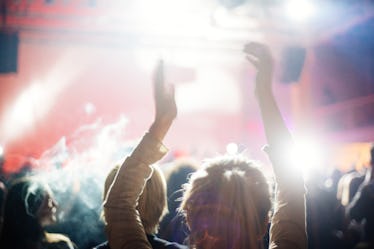 The One Festival You Need To Experience Before 25, Based On Your Zodiac Sign
Boris Jovanovic/Stocksy
Festival life is in your future. There's something about music that we can all get behind. From alternative, to rap, and those catchy pop songs that are always on the radio, there's truly a song for everyone and every experience. On road trips with your friends, you take over the AUX cord and put on your playlists. Life is better when there's a soundtrack, and you know exactly which tune you want to be in the background of every memory you make together. According to the stars, the best festival to go to before 25 is based on your zodiac sign and should absolutely be on your bucket list. Get your flower crowns ready — it's not your average concert or atmosphere.
There's no shortage of good vibes when you're surrounded by people listening to the songs they love. Think of all those dance parties you've had with your crew, where you're scream-singing along to middle school throwbacks. A music festival is like that, but with thousands of your best friends that you just haven't met yet.
When our lives have us totally in our feels, our wanderlust is at its peak, or the world is just having a hard time — we tend to turn to music. The lyrics know exactly what to say, and bring us a little bit to life. If you look up to the stars, the music festival you should go to is just as clear. Your sign needs to see one stage before turning 25 for your universe to be totally pitch-perfect.