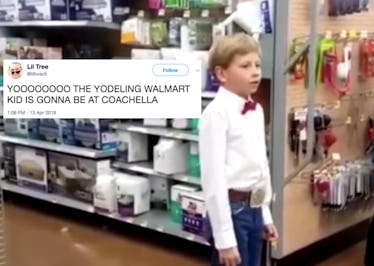 The Viral Walmart Yodeling Kid Is Set To Perform At Coachella & Twitter Is Into It
I'm unashamed to say we live in a society that thrives on memes. In the realm of internet phenomena, 11-year-old Mason Ramsey — better known as the "Yodeling Walmart Kid" — is one of the latest and greatest internet stars. Based on reports from TMZ, though, internet stardom is helping Ramsey perform at one of the greatest music festivals this year. Although I'm a little baffled, I'm oddly jealous that I won't be there. If you haven't already seen the tweets about the viral Walmart Yodeling Kid performing at Coachella, check them out. They probably say what many of you are thinking right now.
If you've gone anywhere near the internet within the past week, you probably saw the kid who went viral for yodeling at a Walmart in Harrisburg, Illinois. According to TMZ, the esteemed yodeler is getting a major performance glow up. Even though he was discovered performing in his local Walmart, he's set to bring his act to the stages of Coachella... and needless to say, festival goers are totally and utterly hyped. TMZ reports the young musician is set to share the Coachella stage with other musicians on Friday starting at 2:45 p.m. What an unexpectedly glorious surprise. Yo-De-Layyy.
According to TMZ, there is even some hope that Ramsey will perform alongside popular rapper, Post Malone. Apparently, the rapper reached out to Ramsey with hopes he'd be featured during his Coachella sat. However, the young yodeler is already booked for the Grand Ole Opry in Nashville on Saturday (thanks to Ellen). Unfortunately, that's when Post Malone's set is. Even so, TMZ reports that there's still hope Ramsey can perform with the rapper during the second weekend of the festival.
While many in the world of Twitter are demanding "respect to the king," others are considering Ramsey's performance "the American dream." I'd say that Ramsey's upcoming Coachella debut is definitely a dream come true. (I'm also hoping that someone sets aside a flower crown for him.) Anyway, the excitement coming from the Twittersphere right now is too real.
There will always be doubters out there, but Ramsey is about to prove all of them wrong. A much smaller portion of Twitter spectators are a little confused as to how (or why) the young yodeler made it to the Coachella lineup. Will Ramsey still knock out his performance even if he isn't standing inside a Walmart? Is he going to be yodeling for the entirety of his performance? There are so many questions that are up in the air, and I'm not entirely sure what to expect at this moment in time. But I do hope he proves all of the haters wrong and totally nails it.
I don't really know how any of this is going to go down myself, but apparently it's going to happen. It definitely makes me a little jealous that I wont be at Coachella to witness this unforgettable sensation, but as they say, you can't always get what you want. I'll just grab my Burger King flower crown and dance to Ramsey's original Walmart performance on repeat. I'll be pumpin' up the party, y'all.
Regardless of how you feel about the "Walmart Yodeling Kid" performing at Coachella this year, just remember that he is performing at one of the world's most renowned music festivals. That in itself is pretty freaking awesome. Ramsey's performance will definitely be a memorable one, so don't forget to stop by his stage (and also take a thousand videos to send my way). I'll be sitting at home moping about how jealous I am, but I guess I'll survive. Happy Coachella-ing!