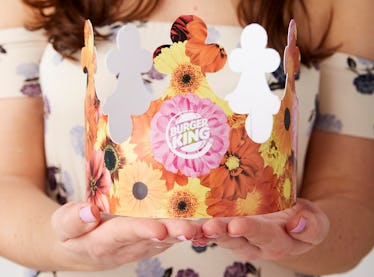 Burger King Is Giving Away Flower Crowns & They'll Give You Coachella Vibes
Burger King
There's no denying that festivals are a total blast. Watching incredible performances, dressing up in flashy summer attire, and eating trendy foods is my jam. But, as many of us dancing queens know, the actual best part of a festival is snagging a picture-perfect flower crown. If you're missing out on Coachella this year, you might be wondering when Burger King's flower crowns will be available. The good news is that they're here just in time for Coachella weekend, and you'll still get to channel all of that flower power (minus the heat, the crowds, and the exorbitant prices, of course).
This year, Burger King will be celebrating "Couchella," or Coachella from the comfort of your own couch, according to a press release. Pretty cute (and also enticing) right? In honor of this newfound celebration of comfiness, Burger King will be giving away a limited-time Burger King Flower Crown from April 13 to April 15. You'll only be able to find them in participating restaurants throughout Indio, California, and Los Angeles, California, though — so you'll still have to venture out to the West Coast to get your hands on one.
I know for a fact that I absolutely cannot swing a ticket to Coachella this year — but I know that if I was on the West Coast, I'd be able to manage a trip to Burger King. Is it bad that my narcissistic dream consists of playing my Spotify Daily Mix while doing a photoshoot in one of these Burger King Flower Crowns? I mean seriously, look at them... they're adorable.
Again, if you're not actually going to Coachella, you still might want to think about throwing a festival-inspired party. There are so many ways to feel like you're partying at Coachella without paying the price. The first step is to make Coachella-themed decorations. Start out by hanging string lights everywhere and setting up cacti to create a desert party vibe. Then, you can hand out handmade flower crowns (if you don't already have Burger King Flower Crowns for everyone), as well as glow sticks. You can also set up a photo booth and serve aesthetically pleasing summery cocktails. If you do decide to throw a Coachella-themed celebration, don't forget to invite me (I'll make a fire playlist).
On the other hand, if you are going to be at Coachella, you're going to have the time of your life. However, it's extremely important to come up with some dope Instagram captions to properly document your time there. You'll be dancing to the best music, your outfits will be phenomenal, you'll be eating delicious food, and most importantly, you'll be vibing with all of your friends in the middle of the desert. Even though there will be so much to do, remember to capture the moment (especially since Beyoncé will be there). So whether you're quoting one of your favorite musicians or if you saw something that spoke to you, just remember that good IG captions are key.
If you're not in the mood to get sweaty while dancing among a crowd of people this weekend, fear not. You can still get those hella cute flower crown pictures after taking a trip to Burger King (if you visit California, that is). It really is a win-win situation, because a Whopper and a flower crown sounds ideal. Also, make sure to throw a Coachella-themed party and send me an invite, because I'm ready to party among the cacti. If you do end up going out to party in Indio, however, I'm begging you to Instagram all of the pictures. I'll have some FOMO, but hey, at least I'll have a Burger King Flower Crown.