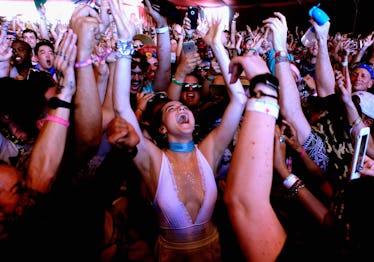 25 Instagram Captions For Coachella That'll Have You Dancing 'Til Dawn
Frazer Harrison/Getty Images Entertainment/Getty Images
There's nothing quite like the vibes you experience throughout festival season. Dancing is a must and singing every lyric you know is going to go down as well. You're rocking the most vibrant flower crown, and the sunshine is making your glittery makeup pop even more. There are a ton of music festivals to add to your bucket list, but one of the most famous festivals to do all of this at is Coachella. Unlike most festivals that run for a weekend or even a week, Coachella is multiple weekends long and is attended by a ton of celebrities. If you're heading to Indio this year, your outfits are going to be amazing, and your Instagram captions for Coachella are going to complement your pics perfectly.
With all of the Insta-worthy food, the good vibes, and the unforgettable experience, your mind is going to be blown. There's just so much to do, it's hard to even fit it in into the couple of weekends it runs (that's even if you go that many times). And with music acts like Beyoncé, The Weeknd, and Kygo, you're not going to want to miss out on this. When you want to post pics of how epic the festival was, you're going to need a bomb AF caption. Whether you want a lyric from an artist you saw or just something that speaks to the moment, these should do the trick.
1. "I wish some nights lasted forever." — Unknown
2. "No one looks back at their life and remembers the nights they got plenty of sleep." — Unknown
3. "This is where I feel alive." — Unknown
4. "You don't have to run, I know what you've been through, just a simple touch and it can set you free." — The Weeknd, "I Feel It Coming"
5. "At times, I fit into lyrics more than I fit into life." — Unknown
6. "F*ck the rap, I'm tryna own a planet." — Tyler, The Creator, "Who Dat Boy"
7. "When you discover new music and it feels like you found a whole new world." — Unknown
8. "And if the music is good, you dance." — Unknown
9. "Good music doesn't have an expiration date." — Unknown
10. "I'll take it all and let you lay. It's moving on so look away." — Alison Wonderland, "Run"
11. "Long weekends at festivals, short weeks at home." — Tom Hodgkinson
12. "Bad thang, fine as hell, thick as f*ck." — Aminé, "Caroline"
13. "The purpose of art is washing the dust of daily life off our souls." — Pablo Picasso
14. "Ultimately, I just want someone who knows what songs not to talk over." — Unknown
15. "I live for the nights I can't remember. With the people that I won't forget." — Drake, "Show Me a Good Time"
16. "Ain't a cloud in the sky or a worry in my mind" — James Barker Band, "Lawn Chair Lazy"
17. "Cause great scenes might be great, but I love your bloopers. And perfect's for the urgent; baby I want forever." — Aminé, "Caroline"
18. "Sweatin' on my blow out, Sweatin' on my dress. This trick about to go off. Mad 'cause I'm so fresh: Fresher than you." — Beyoncé, "7/11"
19. "Generally, when I come to festivals, I just wander freely and see what happens." — St. Lucia
20. "And in that moment, I swear we were infinite." — Perks of Being a Wallflower
21. "I'm done up 'til sunup" – Kid Cudi, "Frequency"
22. "'Cause tonight I'm making deals with the devil" — Ariana Grande, "Side To Side"
23. "I'm a motherf*ckin' starboy" — The Weeknd, "Starboy"
24. "A little party never killed nobody, so we gon' dance until we drop." — Fergie, "A Little Party Never Killed Nobody (All We Got)"
25. "Life may not be the party we hoped for, but while we're here we should dance." — M.D.H