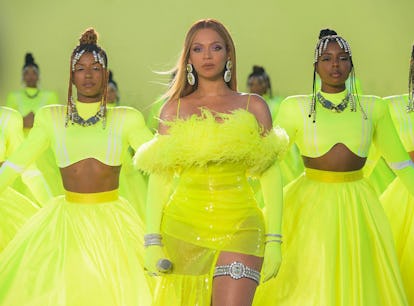 These Renaissance Lyrics Are Perfect For Your Next IG Caption
"Nobody can judge me but me. I was born free."
Handout/Getty Images Entertainment/Getty Images
Beyoncé is officially back. On Friday, July 28, she dropped her seventh studio album, Renaissance, which she teased on her website is the first release in a "three-act project." The new record features 16 tracks, including her hit single "Break My Soul," as well as stand-out tracks like "I'm That Girl" and "Virgo's Groove." If you haven't listened to the album yet, get ready, because Renaissance will have you hooked.
The star dropped her album's first single, "Break My Soul," on June 20. Then, just a few days later, she shared the official artwork for Renaissance on Instagram. The cover showed the singer sitting on top of a crystallized horse. In her caption, she called the making of the album "a beautiful journey of exploration" because it gave her a sense of escape "during a scary time for the world."
She said she hopes listening to the album will help fans as much as recording the album helped her. "My intention was to create a safe place, a place without judgment. A place to be free of perfectionism and overthinking. A place to scream, release, feel freedom," she said. "I hope you find joy in this music. I hope it inspires you to release the wiggle. Ha! And to feel as unique, strong, and sexy as you are."
With the album now out, fans will surely celebrate the record while living their best lives. Renaissance is an album for the pregame, the club, the afterparty, and the next morning. It's an album for summer of run...and the rest of the year too.
So when it comes to captioning your next Instagram post, try out one of these Renaissance lyrics.
"It's not the diamonds. It's not the pearls. I'm that girl." — "I'm That Girl"
"Comfortable in my skin. Cozy with who I am." — "Cozy"
"You hate me 'cause you want me." — "Cozy"
"I'm one of one. I'm number one. I'm the only one." — "Alien Superstar"
"Category: bad bitch." — "Alien Superstar"
"Unapologetic when we f*ck up the night." — "Cuff It"
"Only double lines we cross is dollar signs." — "Energy"
"Look around, it's me and my crew." — "Energy"
"You won't break my soul." — "Break My Soul"
"Bey is back, and I'm sleepin' real good at night." — "Break My Soul"
"I'm takin' my new salvation, and I'ma build my own foundation." — "Break My Soul"
"Nobody can judge me but me. I was born free." — "Church Girl"
"Bad girl acting naughty, church girl, don't hurt nobody." — "Church Girl"
"Say you won't change. I love the little things that make you you." — "Plastic Off The Sofa"
"Baby, come over. Come be alone with me tonight." — "Virgo's Groove"
"When the queens come through, part like the Red Sea." — "Move"
"My love, only a real one could tame me." — "Heated"
"Cut that b*tch like culinary." — "Thique"
"I'll go and do the time if it means I'll make you mine." — "All Up In Your Mind"
"I'ma make you go weak for me. Make you wait a whole week for me." — "America Has A Problem"
"It should cost a billion to look this good." — "Pure/Honey"
"I wanna house you and make you take my name." — "Summer Renaissance"
Beyoncé's latest album Renaissance is now available to stream.