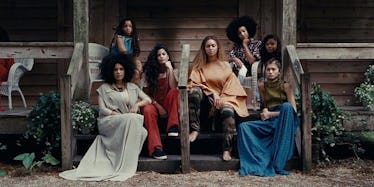 What Beyoncé Continues To Tell Us About Personal Growth In 'Lemonade'
HBO
Beyoncé. Yoncé. Sasha Fierce. Bey. Queen B. She goes by many names, represents many ideas and has graced the ears and hearts of millions of people.
As Millennials, none of us can forget belting "Say My Name" as we rocked and respected the girl power of Destiny's Child. "Single Ladies" was our anthem in a time where we learned it was fun and empowering to be single.
We moved the negative from our lives when "Irreplaceable" helped us to never settle for being treated less than the best. We got sultry and sensual as "Drunk in Love" taught us to embrace our sexuality as women. "Flawless" opened our eyes and empowered the fierce feminist in us all.
Now her album Lemonade is on repeat across the globe, uniting themes of race, infidelity, feminism and the complexities of love. As Beyoncé has grown as an artist, she's empowered us all to share in this growth. The Queen has shared with us as she's learned. Here are four ways she has shaped the way that we think, feel and grow:
1. We can find our own voice.
Beyoncé became a household name in the '90s as the leading lady of Destiny's Child. With this group, Beyoncé added to the incredible leading ladies of the time, but through songs like "Girl," we always remembered how important our girlfriends and the collaboration with other women was. Yoncé has sold over 60 million records with Destiny's Child.
Beyoncé, like all of us in our 20s, was figuring out her style, exploring topics and collaborating with others to find out which path was the best. Ultimately, Beyoncé said goodbye to Destiny's Child. After battling depression and finding her own path, Beyoncé found her voice and gave us the inspiration to try to do the same.
2. We should be real.
Beyoncé has always sung about what's real and relevant, whether that is exploring gender roles in "If I Were a Boy," or highlighting the Black Lives Matter movement in "Formation." Her music has transitioned from less personal jams such as "Love on Top," to songs that explore complex, raw and real topics.
Her work in Lemonade is the quintessential example of how Beyoncé has transitioned from an entertainer to a true artist. She pulls from her deepest torments to create music that lifts the façade off current issues, and explores deep emotions like pain, jealousy and love. By using pain to create something beautiful, she's become an inspiration for us all.
3. We can take pride in being women.
Queen Bey has rightfully assumed her role as queen, because she made herself queen. She's showed us who run the world: girls. She is the definition of power, beauty, brains and strength. Her work has walked us through the steps of her self-realization of worth and empowerment.
Bey's music has been one of the only influences on our radios and iTunes libraries constantly building women up and inspiring us to embrace the power and worth we all have. Beyoncé is one of the most masterful albums about a contemporary woman embracing and praising her sexuality. She's shown us all the sides of being a woman, and given us reason to be proud of every aspect of ourselves.
4. We can all change society.
As Beyoncé became our role model, she began to influence the world. She ain't called the Queen for nothing. She has brought intentional awareness to women and gender inequality, racism and feminism. She's used her influence to create change, helping us all to realize women have the power to do so. She's changing society.
Using Black Panther outfits for her dancers at this years' Superbowl shows us Yoncé uses her influence to bring awareness to issues that are often overlooked in the media. She is changing society and empowering others to do the same. As she states in Lemonade, "The past and present merge to meet us here."
She highlights all of her experiences to create masterful messages that cross our hearts to empower us to connect with our souls, our realness and appreciate what we can make when life hands us lemons. Thank you for growing and helping us to do the same, Bey.