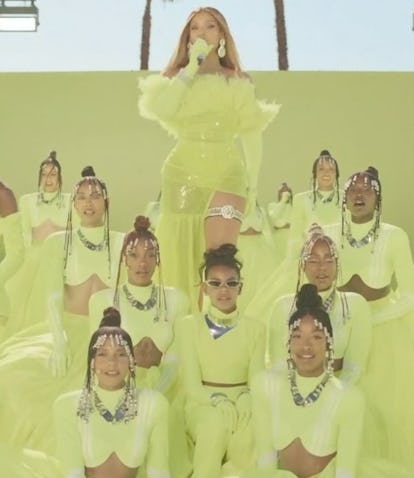 You Totally Missed Blue Ivy's Cameo In Beyoncé's Oscars Performance
ABC
If you're going to hire Beyoncé to perform at the Oscars, you might as well make her the opening act because it will be the highlight of the show. The 2022 Academy Awards bowed to that reality, broadcasting her live performance from the Compton Tennis Courts in the Dolby Theater. But (perhaps because it was not live in the room) fans may have missed Blue Ivy's cameo in her mother's 2022 Oscars performance, so make sure you see it.
Blue Ivy has been at her mother's side since she was old enough to walk and dance. Beyoncé has featured her on her albums, brought her to red carpets and sporting events, and generally letting her live her best life. The girl has also been featured in music videos, including multiple ones her mother has released. "Brown Skin Girl" from Beyoncé's 2020 film Black Is King, even earned the kid a Grammy for Best Music Video. In short, at the tender age of nine, Blue Ivy is more experienced and accomplished than most of Hollywood was at her age.
Naturally, Beyoncé wasn't about to leave her out of Mama's First Oscar Nomination Performance. (Bey has performed at the Oscars before, but singing other people's nominated work.)
If you're having trouble picking out Blue Ivy, she's the one who isn't wearing the same outfit as the rest of the "Be Alive" dance corp. She has a tennis yellow two-piece bodysuit and her hair in a bun, instead of a tutu and braids with beads. Also, she's got on triangle sunglasses because, of course, she wears sunglasses while dancing, and they don't fall off.
"Be Alive" from King Richard is nominated for Best Original Song at the Oscars, and up against some pretty stiff competition. The favored song to win is "Dos Oruguitas" from Encanto by Lin-Manuel Miranda, but other nominated songs are also bangers, including "Down to Joy" from Belfast by Van Morrison, "Somehow You Do" from Four Good Days by Diane Warren, and the title track from No Time to Die by Billie Eilish.
King Richard is streaming on HBO Max.