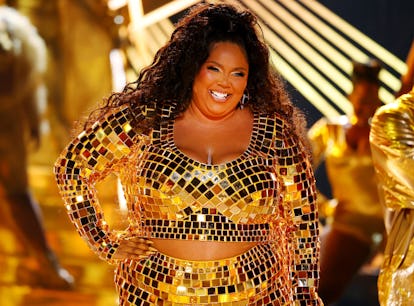 This Beyoncé Album Inspired Lizzo To Become A Musician
Leon Bennett/Getty Images Entertainment/Getty Images
Lizzo finally made her Carpool Karaoke debut, and it was about damn time. The Grammy-winning singer, rapper, and flutist joined James Corden to sing some of her biggest hits and look back on her long and winding road to stardom on June 27. By far, though, the biggest moment in the video came when the Houston native spoke about her fellow H-Town icon: Beyoncé.
Lizzo told Corden that her love for Queen Bey goes beyond just everyday fandom. She was a self-proclaimed nerd growing up and said kids made fun of her. What those kids didn't know is that she had the power of Beyoncé on her side.
"When I was shy or when I didn't think I was cool or when I was getting picked on, I would listen to Beyoncé in my bedroom and it would transport me," she said. "I would feel something."
For the Special singer, there was a specific reason (and album) that Bey got her through hard times. She said Beyoncé's music gave her hope, which is something she desperately needed at the time after she left school and started living out of her car. "When I dropped out of college and I was really depressed, I listened to B'Day on repeat, and I would just sing B'Day all the time," Lizzo said on Carpool Karaoke.
It turned out that Beyoncé inspired Lizzo to do more than just get her life back together. "I was like, 'I'm going to be a singer. I'm going to be a singer. The way she makes people feel is how I want to make feel people feel with music,'" she said. "She's been my North Star."
Lizzo's love for Beyoncé runs so deep that she even named her gorgeous silver flute, Sasha Floot, after Bey's alter ego, Sasha Fierce. Sasha Floot even has her own verified Instagram account.
Given that B'Day contained timeless hits like "Déjà Vu," "Irreplaceable," "Ring the Alarm," and "Get Me Bodied," it came as no surprise that a young Lizzo found herself in the record.
What did come as a surprise though was Lizzo saying she has yet to meet Beyoncé. So when Corden asked her if she'd like for him to call the Queen Bey herself, she almost started crying before he burst out laughing and reassured her he doesn't have her number.
Cruel trick, man!