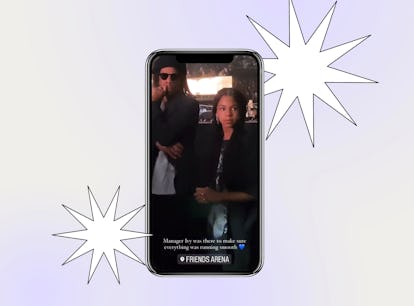 Blue Ivy & JAY-Z Supported Beyoncé's Renaissance Tour In The Best Way
Blue Ivy was both her mom's manager and twin.
Twitter/@beyoncepress
Though Beyoncé's Renaissance tour is a love letter to the Beyhive, her fans aren't the only ones attending the shows. Her husband JAY-Z and daughter Blue Ivy Carter also showed up for some avant-garde fun. The two were spotted at the tour's opening night in Sweden on May 10. Naturally, fans were excited to see the duo, as they tend to give social media the cutest father-daughter moments.
In a fan-captured video on Twitter, JAY-Z and Blue Ivy are seen watching Beyoncé perform what sounds like "Diva." The duo definitely understood the assignment when it came to fashion, sporting similarly black and white outfits. By the design on Blue Ivy's top, it seems she's wearing her mom's merch — specifically, the one with Bey posed in a glittery cowboy hat. Talk about double support.
"Manager Ivy was there to make sure everything was running smooth," the caption wrote, nodding at the ongoing gag that Blue Ivy is her mom's booked-and-busy manager. Clearly, with a joking title like that, overseeing tour duties is at the top of the 11-year-old's list.
Though a short clip, fans still couldn't help but notice how identical Blue Ivy is to her mom. Whenever the tween steps out with her parents, it's like you're witnessing three versions of the same person. One Twitter user wrote, "They really said 'copy + paste' with Blue Ivy." Another fawned over Blue Ivy's striking resemblance to Beyoncé, tweeting: "Her little side profile just screams mini Bey."
A third fan almost had to do a double take and quote-tweeted, "Beyoncé genes really did numbers here. Blue Ivy face card is crazy." Obvs, when Beyoncé fiercely chanted "face card never declines, my God," on "Heated," that was a nod to her and her twin.
As for JAY-Z and Blue Ivy, this is their latest dad-daughter outing. Their previous one came in February when they attended the Fenty Bowl (OK, fine, Super Bowl) between the Kansas City Chiefs and Philadelphia Eagles. While there, JAY-Z flaunted his photography skills and took a couple of photos of his daughter.
Here's to more father-daughter moments from the two.