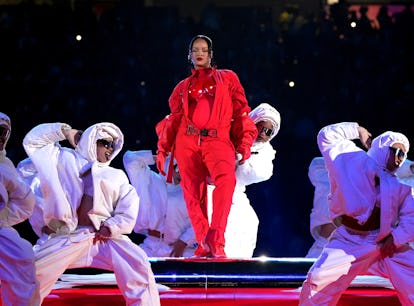 Rihanna Celebrated Her Epic Halftime Performance In The Best Way
Kevin Mazur/Getty Images Entertainment/Getty Images
Rihanna's Navy fanbase is still reeling over her Super Bowl halftime show— aka the Fenty Bowl. ICYMI, on Feb. 12, the singer reminded the world of her star power by performing some of her career-spanning hits while occasionally floating on a glass platform. Not to mention, she did it all while pregnant with her second child. You know, just typical iconic behavior. RiRi clearly has a lot to celebrate, and she wasted no time giving herself some well-deserved flowers after the show.
Once Rihanna finished her performance, several videos of her letting loose backstage with her team and friends began circulating online. On Twitter, FOX Sports posted a sweet clip of the singer celebrating her performance. Still adorned in her cherry-red jumpsuit, RiRi can be seen taking a sip of water before happily embracing one of her background dancers.
Rihanna's team then cheered her on before giving her a champagne shower. Well, this definitely gives new meaning to her bop, "Cheers (Drink To That)."
The celebration didn't stop there. Rihanna's longtime pal, Melissa Forde, shared a video of her and some friends hyping up the singer on Instagram. "SUPERBOWL2023!!! 🇧🇧🇧🇧🇧🇧🇧🇧 Love you forevaaaa sis @badgalriri," Forde captioned the clip, which sees RiRi happily dancing as another friend waved a Barbados flag in the background.
In another video shared on Twitter, RiRi continued honoring her halftime show. Now changed from her red jumpsuit to an all-black 'fit, the Anti singer happily sang while leaving her trailer. She even shouted out her baby while rubbing her stomach before swinging her Barbados flag.
Being that it's been eight years since Rihanna performed solo, these celebratory moments from her closest confidantes were heartwarming for fans to witness. She's glowing with glee in both videos, almost as if she's aware she slayed her performance. Honestly, you can feel that aura the moment she began her halftime show with that mesmerizing smize. With no special guests, this strategic move allowed her to ripple through bops like "B*tch Better Have My Money" and "Rude Boy" with ease.
Rihanna exuded that magnetic confidence that's given way to her "Bad Gal" moniker, and it felt so good to see her in her element— even if her full-time commitment is building her Fenty empire.