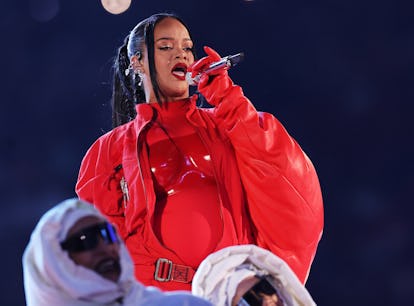 Rihanna's Mid-Performance Makeup Touchup Won The Super Bowl
The show was one big Fenty Beauty ad.
Gregory Shamus/Getty Images Sport/Getty Images
Rihanna isn't the face of her Fenty Beauty empire for nothing. On Feb. 12, the world tuned into the singer's highly anticipated Super Bowl halftime performance, and while some (well, a lot of) fans were fawning over RiRi's warm vocals and banger-filled setlist, others couldn't help but notice a tiny nod to her Fenty brand right in the middle of her performance. ICYMI, Rihanna seemed to touch up her makeup during her Super Bowl set, and the memes are incredible.
IYDK, Rihanna stepped into her beauty bag and launched her brand in 2017. Within four years, the business (alongside her other Fenty ventures) helped her hit billionaire status in 2021. Because of her dedication to the brand, before her performance, fans teased that Rihanna would incorporate her beauty venture into her halftime show. And they were right on the money, b*tch.
RiRi's performance was cut into two iconic phases. The first phase began with her mid-air, launching into hits like "B*tch Better Have My Money" and "S&M." Her ode to her beauty line came in the second section as she showed off slick choreography on the ground. Between performing "Pour it Up" and "All of the Lights," Rihanna grabbed a Fenty compact — her Invisimatte Setting + Blotting Powder, to be exact — from her dancers to touch up her makeup before continuing the show. Talk about being a queen of product placement.
Of course, that wasn't the only Fenty product showcased onstage. According to a press release, in addition to the aforementioned powder, the pop singer wore her popular Pro Filt'r Soft Matte Foundation and a blue-toned Fenty Icon Velvet Liquid Lipstick in The MVP.
This touch-up moment during her performance solidified my already activated Fenty Beauty stan card. I'll always be a Glass Slipper lip gloss (especially the minty-cool version) kind of girl. For nearly 13 minutes, Rihanna blew through a 12-song set list brimming with choreography and quick transitions, and she looked absolutely flawless doing so.
Fans were in agreement.
Gotta love that RiRi is in on the joke with all her fans.