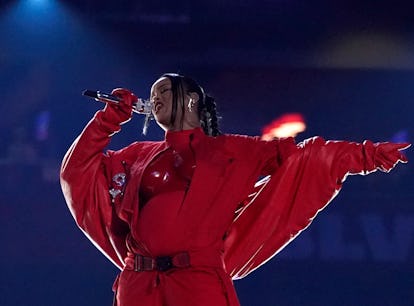 Rihanna's Halftime Show Setlist Featured Bop After Bop
From "Where Have You Been" to "Pour It Up" and "Diamonds."
TIMOTHY A. CLARY/AFP/Getty Images
To no one's surprise, Rihanna dominated her first live concert performance in half a decade. While she hasn't released a new album since 2016, Rihanna's Super Bowl halftime show setlist still felt timely as ever, as she included hit after hit. It's certainly a healthy reminder that she's already given fans plenty of bops to enjoy... even if new music seems far away as ever.
Leading up to the halftime show, fans were having fun speculating which songs would make the cut. Tracks like "Umbrella" and "Diamonds" were popular guesses, but Rihanna truly has a seemingly endless catalog of songs worthy of a Super Bowl show and only 13 minutes of screen time to fill.
Picking which songs to include must have been a difficult task, but the hardest decision had to have been choosing an opener. The first song really sets the stage for the entire performance. And for that, Rihanna chose "B*tch Better Have My Money."
Standing atop a floating stage over State Farm Stadium in Arizona, Rihanna kicked off her Super Bowl setlist with her 2015 track, and the hits didn't stop there. Rihanna's full Super Bowl setlist included:
"B*tch Better Have My Money"
"Where Have You Been"
"Only Girl (In The World)"
"We Found Love"
"Rude Boy"
"Work"
"Wild Thoughts"
"Pour It Up"
"All Of The Lights"
"Run This Town"
"Umbrella"
"Diamonds"
"The setlist was the biggest challenge," Rihanna revealed in a pre-Super Bowl pressconference. However, she also said she thinks she and her team "did a pretty good job at narrowing it down." The nine-time Grammy winner wanted her Super Bowl show to be a celebration of her entire 17-year catalog, and unfortunately, that meant cutting some fan-favorite songs.
Some fans took to Twitter to share their disappointment that some of their fave tracks didn't make the cut. "Rihanna was great! But no 'Pon de Replay,' 'Disturbia,' and no 'Please Don't Stop The Music'?! Dang just dang," one fan wrote.
The memes were low-key funny, but one user pointed out that this is just the beginning of fandoms being hurt by setlists. With Taylor Swift's Eras tour kicking off next month and Beyoncé's Renassaince world tour beginning in May, there are likely going to be more than a few hurt fans with their fave songs left out. One Twitter user put it best, "People complaining about what songs didn't make it into Rihanna's setlist is just an inside look of how Swifties are gonna be on March 17th."
Even Rihanna admitted that there was some "trial and error" with her setlist. Prior to Super Bowl Sunday, she said there were "probably about 39 versions" of the setlist. It's possible on most of those versions "Disturbia" and "Pon de Replay" were there, but they just didn't vibe with the full show.
Here's hoping this is just the beginning of Rihanna's musical comeback, and that a tour is in the near future with an even bigger setlist. Of course, that tour may have to wait just a little bit as Rihanna also hinted in her Super Bowl halftime show (then confirmed via publicist following the performance) that she is pregnant once again. All hail Queen RiRi.