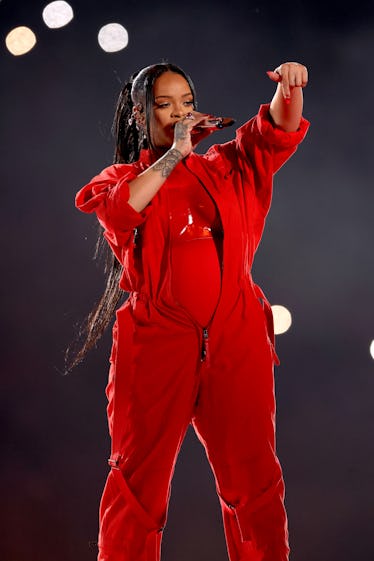 Yes, Rihanna Is Pregnant!
Gregory Shamus/Getty Images Sport/Getty Images
Rihanna's got love on the brain. At the 2023 Super Bowl halftime show, the "Where Have You Been" and "Diamonds" signer flaunted a baby bump on her sky-high stage. A representative for Rihanna confirmed to The Hollywood Reporter and Entertainment Tonight that she and A$AP Rocky are expecting their second child together.
"Rihanna adores being a mom and it's her biggest accomplishment in life. Her and A$AP have always wanted to grow their family and have another baby together," a source told ET. "They have been talking about expanding their family for quite some time. Being a mom is a dream come true for Rihanna and she takes so much pride in it."
RiRi used her Super Bowl performance to officially hard-launch her second pregnancy, but she previously hinted that she was expecting again in the days leading up to her performance. "I'm thinking about bringing someone," she teased in an interview with NFL Total Access about whether she'd have any guests join her on the Super Bowl stage. Of course, the Grammy winner didn't end up bringing any other special performers, but she did previously attribute becoming a mom to making her decide to do the Super Bowl Halftime show.
"I feel like it was now or never, really," she told Extra in a November 2022 interview. "There's this weird sh*t that happens when you become a mom, that you just unleash or unlock other parts of your superpower, you feel like you can take on or you could do anything."
While the multi-hyphenate talent has taken a long hiatus from her music career, fans shouldn't be too worried that having another baby will delay the "Run This Town" singer's return to making bangers. "I'm a performer," she told Extra. "I wanted to take on the challenge and I wanted to do something that would force me to get back onstage."
Rihanna's highly anticipated show might be over, but if her first pregnancy is anything to go by, fans know the style icon will likely be stepping back into the limelight with all the internet-breaking, baby-bump-baring maternity looks.