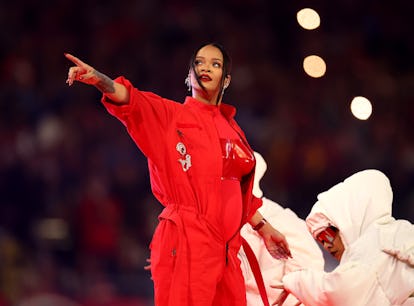 Twitter Agrees Rihanna Absolutely Nailed Her Super Bowl Performance
Ezra Shaw/Getty Images Sport/Getty Images
Welcome to the Fenty Bowl, an event where non-football fans tuned in to watch Rihanna's Super Bowl halftime show. This performance has been a long-time coming for her Navy fanbase, who's been waiting for RiRi to release new music for six (!) years. Her comeback singles "Lift Me Up" and "Born Again" were already stellar reminders she's been sorely missed; however, this halftime show added another nudge. Like a true natural, she showed the music scene who "Run This Town," and Twitter was in agreement that her Super Bowl halftime performance was fire.
Clad in a cherry-red jumper, Rihanna kicked off her medley with "What's My Name?" and "B*tch Better Have My Money." For many fans, these two were unlikely candidates as show openers, but their position in the setlist fit so perfectly. That's not all, though. As she performed these two bops, she was lifted on a red-trimmed glass platform above the field. She was then lowered to ground, where she introduced "Only Girl (In the World)" in a sickening dance sequence.
She continued to up the ante, serving slick choreography and smizes as she performed other hits like "We Found Love," and "Rude Boy." She eventually ended the show with "Diamonds," and sent off her fiery performance with fireworks.
While promoting her halftime show on Feb. 10, RiRi revealed the most challenging part of this gig was fitting her elite discography into a 13 minute performance.
"You're trying to cram 17 years of work into 13 minutes, so it's difficult," she said in a press conference, per Rolling Stone. "Some songs we had to lose because of that, and that's going to be OK, but I think we did a pretty good job of narrowing it down. There are probably about 39 versions of the setlist right now."
Honestly, Rihanna and her team nailed it with the song choices. Nearly every track spanned across an iconic era of hers, and it evoked a source of nostalgia. There was a point in the singer's career where you couldn't escape hearing her music, so to hear those bangers performed with her fresh vocals after all these years? Ugh, you've definitely been missed, RiRi.
Here are the best reactions to Rihanna's halftime performance.
Rihanna came in hot with this cutthroat banger.
Ever since Rihanna confirmed her halftime performance, many fans wondered if she would have any surprise guests. Luckily for fans, her show was 13-minutes filled of just her presence.
It's sweet that Rihanna let the Philadelphia Eagles and Kansas City Chiefs serve as opening acts for her concert. But the real game began once Rihanna graced the stage.
During Rihanna's performance, many fans seemed to notice the singer flaunted a baby bump on stage. Shortly after the show, a representative for the singer confirmed to The Hollywood Reporter and Entertainment Tonight that she and A$AP Rocky are expecting their second child together.
Even tennis legend Naomi Osaka praised Rihanna on her halftime performance.
Clearly, when Wendy Williams delivered this iconic line on her talk show, she was predicting Rihanna's long-awaited return to music.
Can't wait to see what this Bad Gal does next.