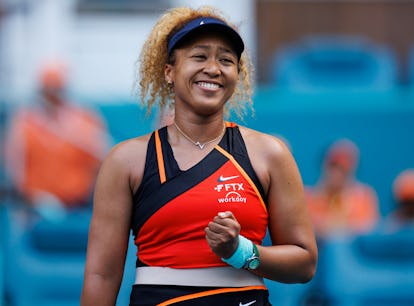 Naomi Osaka Is Pregnant! Her Touching IG Included A Tennis Update
"Everyday is a new blessing and adventure."
Frey/TPN/Getty Images Sport/Getty Images
Naomi Osaka has a baby on board! On Jan. 11, the tennis star revealed on social media that she's expecting her first child. She shared a photo carousel on Instagram that featured an ultrasound of her baby and a heartfelt note about the surprising news. By the sound of it, Osaka is already gearing up to be an iconic tennis mom.
"Can't wait to get back on the court but here's a little life update for 2023," she captioned the post. In the following slides, Osaka gushed about her pregnancy in a message written in both English and Japanese.
"The past few years have been interesting to say the least, but I find that it's the most challenging times in life that may be the most fun," she began the note, later confirming her pregnancy in the sweetest way. "One thing I'm looking forward to is for my kid to watch one of my matches and tell someone, 'that's my mom.'" BRB, currently sobbing.
Osaka didn't publicly name who she's expecting with in the post. However, People reported she's having her first child with boyfriend and rapper, Cordae. The duo began dating in 2019, and made their relationship public with their first date at an L.A. Clippers game that same year.
In February 2021, the pair appeared in GQ's Modern Lovers issue and Cordae shared how intentional they are in keeping their relationship private. "We were dating for almost a year before people knew about us," he said. "We don't really post intimate moments, because I feel as though they're sacred. A relationship is really a sacred thing. Once you let outside influences get into it, it becomes less sacred."
Later that year, the couple stepped out in eye-catching ensembles at the Met Gala.
Elsewhere in her pregnancy announcement, Osaka also vowed to return to tennis. Specifically, she's looking to make her debut at the 2024 Australian Open. "2023 will be a year that'll be full of lessons for me and I hope I'll see you guys in the start of the next one cause I'll be at Aus 2024. Love you all infinitely," she wrote in the note.
Osaka has been hinting at returning to tennis since she took a step back from the sport in 2021. At the time, she withdrew from several major tournaments and games due to struggles with her mental health, according to Time.
With a baby on the way and Osaka looking to rebuild her tennis career, the future is certainly bright for these two.