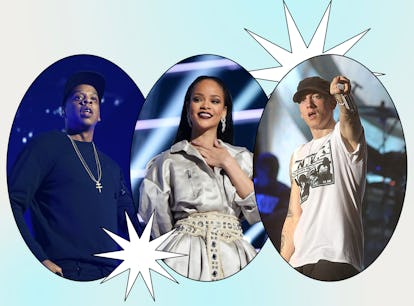 8 Guests Rihanna Could Bring Onstage At The Super Bowl
From JAY-Z to Drake and everyone in between.
Jamie McCarthy/Getty Images Entertainment/Getty Images, Jeff Kravitz/FilmMagic, Inc/Getty Images, Gary Miller/FilmMagic/Getty Images
What a time to be a Rihanna stan. Since the bad gal announced she's performing at the Super Bowl LVII halftime show on Feb. 12, her Navy fanbase has been in a frenzy — as they should. It's been nearly six years since RiRi stepped away from music to focus on her Fenty empire. Then, like a gust of unexpected wind, she returned to the music scene with two ballads ("Lift Me Up" and "Born Again") and news of an epic return to the stage.
It's common for headliners to have cameos in their Super Bowl performance, especially if their discography is primed with legendary collaborations. Rihanna certainly fits that mold as she's produced hits with artists like JAY-Z, Eminem, and Drake. However, there's also a chance she could perform solo, similar to The Weeknd's show in 2021.
In a recent Apple Music press conference, Rihanna revealed her set is 13 minutes long and that she's gone through "about 39 versions of the setlist." "That was the hardest, hardest part — deciding how to maximize 13 minutes but also celebrate," Rihanna said in the Feb. 9 interview. "That's what this show is gonna be. It's gonna be a celebration of my catalog in the best way that we could've put it together."
She also said that it was challenging trying to cram all her hits into a short span of time, but she's confident the setlist will accurately represent her career. Here are 8 stars the Anti singer may share the stage with, ranked by possibility.
This article was originally published on