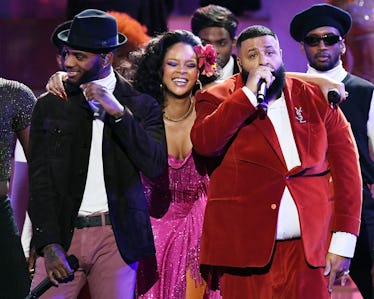 Rihanna & DJ Khaled Killed Their Grammys Performance & Fans Are Obsessed
Kevin Winter/Getty Images Entertainment/Getty Images
There were a lot of amazing performances at the 2018 Grammy Awards. However, most of them were overshadowed by the powerhouse trio that is Rihanna, DJ Khaled, and Bryson Tiller. The three hit the stage to perform "Wild Thoughts" — one of the hottest and most played songs of the year. Rihanna and DJ Khaled's Grammys performance was everything fans wanted and more. For real though, is it too late for them to perform another?
Although neither Rihanna nor DJ Khaled was nominated this year for a Grammy, they definitely made their presence known. DJ Khaled announced at the beginning of the song that people told him he would never perform at the Grammys, but there he was. The "Wild Thoughts" performance stage was filled with background dancers and sultry lighting. Rihanna fit the theme in a pink, sparkly wrap dress with a large matching flower in her hair. The whole performance had a sort of '50s theme. Also, it's been a minute since I've seen Rihanna dance live, and she's amazing. The entire performance came together for one epic Grammys moment.
If you're a Rihanna worshipper, the kween still reigns. Fans seem like they are even more obsessed with Rihanna, DJ Khaled, Bryson Tiller, and "Wild Thoughts" than ever before. I didn't know that was even possible.
"Wild Thoughts" was released in conjunction with the music video on Jun. 16, 2017. It was an instant success, and fans seriously cannot get enough of the steamy single. It was the first song DJ Khaled collaborated with Rihanna on, and it was magic. DJ Khaled agreed and said working with her was a "blessing." He told Elite Daily in an exclusive interview,
Oh man, shoutout to Rihanna. It was incredible to collaborate. Not only am I a fan of Rihanna, she's an icon. To make one of my biggest records of my career and the first time ever for me to work with her is such a blessing ... I always knew when I was going to work with her it was going to be great and I got that opportunity and it was incredible from shooting the video to making the record.
Obviously RiRi is an icon, and every song she adds her talents to becomes a hit. Through the process, the singer and producer became great friends. DJ Khaled continued,
Also, she's an incredible artist, but also a great person meaning as in a friend. She's a great friend by her doing this for me. You know what I'm saying? You know, shooting the video, being a feature on the record... that means a lot to me. We went number one with it.
Number one indeed. "Wild Thoughts" is a dynamic song that can make anyone get up and dance. The lyrics are super sensual and the artists don't hold back. RiRi kicks it off in verse one by singing,
I don't know if you could take it/Know you wanna see me nakey, nakey, naked/I wanna be your baby, baby, baby/Spinning and it's wet just like it came from Maytag/White girl wasted on that brown liquor/When I get like this I can't be around you/I'm too lit to dim down a notch/'Cause I could name some thangs that I'm gon' do
Then the most addictive chorus of all time happens.
Wild, wild, wild Wild, wild, wild thoughts/Wild, wild, wild/When I'm with you, all I get is wild thoughts/Wild, wild, wild/When I'm with you, all I get is wild thoughts
DJ Khaled throws in some of his signature lines, and Rihanna continues.
I hope you know I'm for the takin'/You know this cookie is for the baking (ugh)/Kitty, kitty, baby give that thing some rest/'Cause you done beat it like the '68 Jets/Diamonds ain't nothing when I'm rockin' with ya/Diamonds ain't nothing when I'm shinin' with ya/Just keep it white and black as if I'm ya sista/I'm too hip to hop around town out here with ya I know I get
Then, Bryson Tiller brings it home.
Ayy, I heard that p*ssy for the taking I heard it got these other n***as goin' crazy/Yeah I treat you like a lady, lady/Fuck you 'til you're burned out, cremation/Make it cream, yeah, Wu-Tang Throw that ass back, bouquet/Call me and I can get it juicy I can tell you're gone off the D'usse/Careful mama watch what you say/You talking to me like ya new bae/Girl, talking like you tryna do things/Now that pipe got her running like she Usain, baby/You made me drown in it, touche, baby/I'm carrying that water, Bobby Boucher, baby/You know I'ma slaughter like I'm Jason Bust it, why you got it on safety?/White girl wasted on brown liquor I probably shouldn't be around you/'Cause you get wild, wild, wild/You looking like there's nothing that you won't do/Ayy, girl that's when I told you
The live performance was unbelievable