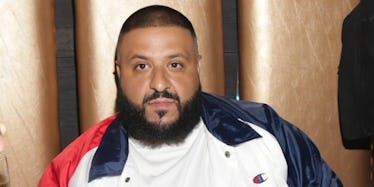 Grateful For 'Grateful': DJ Khaled Talks Going Platinum With Rihanna - EXCLUSIVE
Getty Images/Jerritt Clark
His newest album has gone platinum, he's written a book, he's known as the King of Snapchat, and he has the cutest son on earth. He's DJ Khaled, and it feels like he runs the world. Inside scoop: He doesn't plan on stopping anytime soon. Elite Daily had the chance to sit down with DJ Khaled to talk about Grateful, Rihanna, fatherhood, and everything in-between. If you're wondering about DJ Khaled's next album, the star even teases that, too. Bless up.
For being wildly successful and a giant in the music industry, DJ Khaled remains extremely humble. When asked about his insane success and four VMA nominations, remaining grateful is major key. He says,
Man, I'm just grateful. Like the title of my album, Grateful. You know... you work for it and actually getting it and accomplishing a goal, it's a beautiful feeling. God is great and I'm just very grateful. I appreciate all my fans supporting me and I thank God everyday. I'm doing it for my son now. So, I'm just getting started. I have a whole new energy, a whole new light. I'm focused.
Honestly, no one loves their kid as much as DJ Khaled. Everything comes back to his son, Asahd. He adds,
My son changed me to be greater. You know, I've been blessed to be great, but I'm greater because of my son. I'm the father of Asahd. I represent him on this [interview] I'm speaking in, when I leave this house, when I'm home... I represent my son so I make sure I represent right. He's changed me because he's shown me what real love and real happiness and real joy is.
Talking with DJ Khaled is exactly what you think it would be like. He's passionate, dedicated, and respectful. I felt pumped and excited about life after speaking with him — he's like my hip-hop Oprah. Obviously, he has encountered a ton of success. Grateful has gone platinum, and "Wild Thoughts" has been on the Billboard charts for 11 weeks.
This was the first song DJ Khaled collaborated with Rihanna on, and it was magic. He agrees,
Oh man, shoutout to Rihanna. It was incredible to collaborate. Not only am I a fan of Rihanna, she's an icon. To make one of my biggest records of my career and the first time ever for me to work with her is such a blessing ... I always knew when I was going to work with her it was going to be great and I got that opportunity and it was incredible from shooting the video to making the record.
The two became friends through the process, and (obviously) created an amazing collab. He continues,
Also, she's an incredible artist, but also a great person meaning as in a friend. She's a great friend by her doing this for me. You know what I'm saying? You know, shooting the video, being a feature on the record... that means a lot to me. We went number one with it.
OK, we all know RiRi is amazing, but I love her even more now. You would think DJ Khaled would be ready to kick back and enjoy his success, but he has no plans of stopping anytime soon.
I'm always working ... We've got to go to phase two on the Grateful album. Do some more visuals, obviously do a lot of shows, touring, setting up a tour. I always have studios everywhere I go. I have a studio in my Miami house, I have a studio in my L.A. house ... I have two studios in Miami and everywhere I go, I have studios. So, you know, anytime I get that vibe or any ideas, I like to execute them as soon as I get the ideas. Even if I'm not working on an album ... At least I started something so I can go back to it when I am deciding to work on an album. In addition to that, I produce records — help put some records up for other people's projects as well, as requests come in.
Grateful phase two, leggooo. He is still in the planning stages of his upcoming tour, but he promises it will be unforgettable:
So, the tour we're putting together, I want it to be something super exciting. I got a tour coming and something, also, I'm going to be doing annually. I've been talking about doing for ten years, I'm finally about to do it. I plan to present it all together. So, you know, look out for my socials so I can tell you when, where, how, and what it is.
Not just on Snapchat, he assured me that he will be "dropping it on every platform." Like many of his projects, DJ Khaled keeps things "top secret" until it's time to reveal. Case in point: Future collaborations. Here's all he could tell,
I just got done doing a movie with Pitch Perfect 3. I just did something with Jamie Foxx on a movie. So, I've been doing a lot of TV and movies lately... as well as promoting my album and touring my album and doing spot days until I can get my tour together. In the studio, I can't tell you right now, it's top secret.
Fiiiine. I'll wait and obsessively refresh my Snapchat like the rest of the world. I'm sure it will be something unexpected — like always. Although he didn't give any specifics, I'm definitely hoping for a new album sooner than later. 
Besides DJ Khaled being a Lyft driver and surprising people for a day, he will be doing another unanticipated appearance. He's partnered with Mentos Gum to deliver an epic challenge to an unsuspecting college freshman at University of Wisconsin-Madison. The student, Sam Jeschke, had the task of connecting with everyone on his college campus using 43,000 bottles of Mentos Gum. Sounds impossible, right?
Apparently not, because Sam accomplished his goal. In doing so he earned a free DJ Khaled concert on campus and a year of free tuition for himself. DJ Khaled is a self-proclaimed lover of Mentos Gum, so the contest and free concert for fans seemed like a no-brainer.
I'm not sure how DJ Khaled keeps his life balanced. Between music, family, and success, he definitely has his hands full. I can't wait to see what comes next from him.