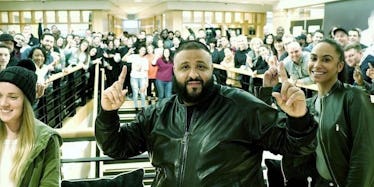 DJ Khaled Had 'Top Secret Meeting' With Jordan Team, Still Posted 24 Instagrams
Instagram
When DJ Khaled is involved, everything is "top secret."
If you've been following DJ Khaled on social media for at least the last month or so, you're well aware of his new "top secret" catchphrase. He typically uses the phrase when talking about a super important project he's working on.
That is of course when he's not using his "major key alert" catchphrase...
For example, DJ Khaled had a very, very "top secret meeting" with the Jordan team this week. Apparently, it's so "top secret" he was only able share a sneak peek of the meeting with... the world?!
Confusing, right? I know, but I'm not complaining. I've always wanted to be a fly on the wall during one of Khaled's "mogul talk" sessions.
DJ Khaled was so excited about his chat with the Jordan team, he decided to share over 20 photos of his meeting with them.
He began by sharing a photo of him and Reggie Saunders, the director of entertainment marketing at Jordan.
Khaled basically documented every second of his meeting. In his defense, he says he's been waiting his entire life for this moment.
He's like a kid on Christmas morning.
Uh oh, it looks like things are still pretty "top secret" after all. Khaled and Jordan are gearing up for something BIG...
That didn't stop him from constantly checking in with his Instagram followers to update them on his whereabouts, though!
At this point, it's been a long day of hard work for Mr. We The Best. He's ready for a "dinner break."
Finally, it's time to eat.
Cigars for dessert? Sure, why not?!
According to Khaled, they don't want to see you smoking cigars at dinner with Team Jordan.
Oh, and in case you were wondering, he's "STILL IN THE MEETING."
Eventually, Khaled started blessing us with videos from the Michael Jordan building in Portland, Oregon.
Since he was in Portland, it was only right he bump Drake's new track "Portland" featuring Quavo and Travis Scott.
Khaled then returned to work with the rest of the squad.
Damn, this is the longest meeting ever...
Don't worry, it'll all be worth it after Khaled's "big announcement!"
While we're here, you might as well take a tour through the office.
Now, back to the meeting!
It's a new day.
By the way, they're "still in the meeting," but not for long...
It's finally over, and there's only one more thing Khaled wants aside from making his big announcement:
A FaceTime call from his son Asahd, of course!
So, any ideas on what DJ Khaled and Jordan have in the works? I'm going to take a wild guess and say a sneaker collab... I could be way off, though.