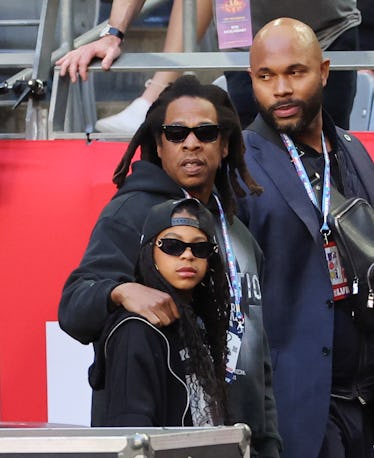 Blue Ivy Wasn't Impressed With Jay-Z's IG Skills At The Super Bowl
Her head shake says it all.
Mike Coppola/Getty Images Sport/Getty Images
Kansas City and Philadelphia football fans weren't the only ones in attendance at the 2023 Super Bowl in Arizona. Jay-Z and his daughter, Blue Ivy, also showed up for the big night — and in style. When you look that good at the biggest game of the year, you've got to take some pics for the 'gram. However, it seemed like Blue Ivy may have been over all the hubbub as Jay-Z took her photo.
Let's face it, having to take someone else's pics can be stressful AF. You want to get the perfect snap, and it seems Jay-Z may ahve failed to capture Blue Ivy's vision. In a video posted on Twitter, Dianna Russini caught Blue Ivy attempting to get a jumping pic from one end of the football field. Afterward, she quickly walked over to her dad to approve of the snap, but looked less than impressed. Jay-Z is a skilled rapper, record producer, and entrepreneur, but potentially, the title photographer won't be added to his resume anytime soon. From the smile on his face in the video, though, he did seem proud of his picture-taking skills.
"Jay-Z is an Instagram Dad," Russini joked on Twitter, while Emmanuel Acho, who captured another angle of the moment, tweeted that "Jay-Z [is] out here trying to win father of the year."
Jay-Z's Roc Nation helped to produce this year's Super Bowl halftime show, which featured Rihanna's return to the stage after half a decade away. Other celebrities in attendance to see this historic performance (and football game) included Paul Rudd, Billie Eilish, and Adele. (The latter was just hanging out with the Carters at the 2023 Grammy Awards, where Beyoncé broke the record for being the most decorated artist in Grammys history.)
After seeing Jay-Z and Blue Ivy together before the game, some fans were wondering where Beyoncé was. A few speculated she was also in the building and possibly a surprise halftime guest with Rihanna. However, Rihanna pulled off an incredible Super Bowl show all by herself — no guests needed.
While the halftime show was the main event for many, Blue Ivy was the talk of the Super Bowl pregame in her cool-girl style. Showing up in an oversized Tupac Shakur tee under a black hoodie with a backward Super Bowl LVII cap and sunglasses, Blue Ivy matched her dad. It truly gave nepo baby royalty realness, and was so cute seeing the daddy-daughter outing in twinning looks.
With Beyoncé's Renaissance tour around the corner, this probably won't be the last time Blue Ivy is spotted out and about. She's sure to have some great 'fits planned for a few of her mom's concerts, and hopefully, Jay-Z works on his IG skills before then.