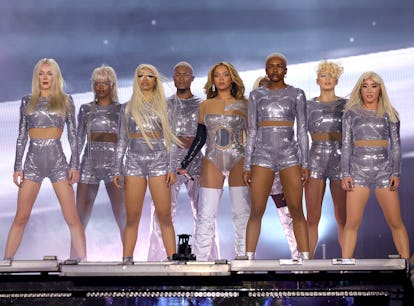 Beyoncé's Renaissance Tour Merch: What's Worth The Wait?
You won't break my soul, but these pieces may break my budget.
Kevin Mazur/Getty Images Entertainment/Getty Images
Attention: We have now enter the Beyoncé Renaissance World Tour era. Prepare for your TikTok scrolling to involve more outfit inspo and concert footage on your FYP. Anyone who managed to snag tickets to the show may already be scoping out which Beyoncé Renaissance Tour merch is worth the wait — and it looks like you may have to start saving now.
Going to concerts is a lot more of struggle than it used to be. Not only do you have to fight virtual queues and scalpers to actually purchase tickets to a show, but buying merch also seems to be a battle on its own. Swifties know all too well the struggles after dealing with merch defects and low stock at Taylor Swift's The Eras Tour. Hopefully, her team has learned a lesson or two for what not to do for the highly-anticipated Renaissance World Tour, but one thing's for sure — Beyoncé's tour merch is expensive.
Beyoncé kicked off the Renaissance World Tour in Stockholm on May 10, and fans were quick to share what merch was available on Twitter and TikTok. While prices were listed in Swedish Krona, by doing a quick conversion, fans noticed that T-shirts were listed for about $58. That's pretty expensive for a shirt, especially since Swift's most popular item for the Eras Tour is a crewneck for $65. However, the BeyHive seems to be more excited about the overall merch designs than Swift's fans were when they first saw what was being sold. Since the Renaissance World Tour doesn't make its way to the U.S. until July, that gives you plenty of time to start saving up.
Beyoncé Renaissance World Tour Merch Prices
Bless the BeyHive on TikTok for sharing exactly what merch is available at Beyoncé's Renaissance World Tour. If you're looking for color, look somewhere else. The merch seems to follow the same vibe as the Renaissance album cover, with a lot of black tees. Some highlights of the collection are a black tee with Beyoncé in a disco cowboy hat on the front, and a distressed gray shirt with a horse — aka Reneigh — on the front and "no skips" on the back. The "THIQUE" zip up hoodie also looks to be popular, but will definitely cost you. According to TikTok, here's a breakdown of the prices for each item, converted from Swedish Krona:
Tote Bag — $44
T-Shirts — $58
Dad Hat — $58
Long Sleeves Shirt — $68
Tour Book — $106
Sweatpants — $116
Hoodie — $126
Zip Up Hoodie — $155
While those prices may seem excessive for most concert-goers, Beyoncé's fans don't mind splurging for some official Renaissance merch. TikToker @adhdwhileblack says, "I really don't care if I like or don't like these pieces. I am purchasing." Beyoncé's tour is set to break records and could even top Swift's Eras Tour by the end of its run, so getting some merch from a record-breaking concert is enticing enough for the BeyHive to spend a little more on a tee. For the first stop on the tour, Beyoncé also had a special "opening night" shirt made just for Stockholm, so it's possible more merch may be added for some of the U.S. dates. Either way, this merch is getting "ten, ten, ten across the board."