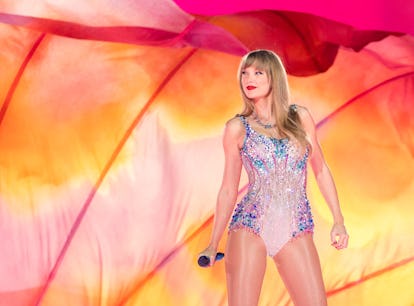 Taylor Swift's Team Has An Explanation For Those 'Eras Tour' Merch Defects
Is one-wash fading the new vintage trend?
Christopher Polk/Penske Media/Getty Images
It seems Taylor Swift's Eras Tour merch is the real anti-hero of this year. Sure, the Ticketmaster debacle might still be a villain for Swifties who couldn't purchase tickets, but this new conversation surrounding her exclusive tees is also frustrating fans. On TikTok, fans have complained that their merch with a design of Swift from different phases of her career fades after one wash. In certain cases, the fading was so significant that it distorts the singer's face. However, according to Swift's team, the alleged fading isn't a defect, but rather an intentional style choice.
In a statement on Swift's online store, her team noted that fans might experience fading on merch due to their "particular ink curing process." "This slight fade is related to the product's distressed, vintage look. Please also note it is important to follow product care instructions as listed on the product label when washing and drying your items, to best protect and maintain the product's look and feel," the statement reads.
The statement also notes that fans can contact Taylor's merch team if they're noticing "dramatic loss of pigment or ink bleeding." It reads, "Please contact taylorswift@umgstores.com so we can help address the concern, and provide a replacement if necessary under our Exchange Policy."
Though Swift's team didn't elaborate on what the merch's ink curing process looks like, TikToker @rumerhenry theorized a certain method that could've been used. She believed that the design's ink might've been flashed on the shirt with quick heat and didn't run through a dryer, which would stop the ink from fully setting into the fabric.
"My suggestion is don't wash [your shirt], because the ink is not cured all the way and it's going to fade," she said in the video.
The design in question appears on exclusive tour items like tees, hoodies, crewnecks, and quarter-zip pullovers. So far, this issue appears to have largely affected the $45 tees and $75 hoodies. While that price point is normal for exclusive tour merch, many fans were shocked that the quality was subpar, especially when compared to the merch that's currently on Swift's website.
TikTok user @raighsunshine (who uses they/them pronouns) noted this after showing their faded Eras Tour tee, stating they didn't have this problem with the original merch they purchased last November. "I got the anti-hero shirt from the Midnights drop right when she dropped it. I've washed that shirt several times now and there's no issues with it whatsoever," they said.
After flipping the tee inside out and washing with cold water, the Taylors on @raighsunshine's tan shirt were faded as though it was vintage. The black dye from the lettering was also washed out; however, it seemed to only happen with the text on the front. They also washed their tapestry of the same design and noticed the fading was just as intense.
Other Swifties such as @daphneorta, @claire.chat2, @mynamesren, @swiftienyc, @gayfortay13, @kyliemeagan, and @through_tylis_eyes also experienced their merch fading after one wash. Some of these users mentioned they also washed their tees in cold water and the art was still affected. However, there's some light at the end of the tunnel for Tyli. In her TikTok, she revealed she contacted Swift's merch support team (the same one listed in the statement) for a "possible refund" or a "new shirt," and a member is working with her to replace her original tee.
Fortunately, not all fans are dealing with fading on their merch. Swiftie @momandadley documented her tan tee came out unscathed after one wash. Meanwhile, fan @shylarl showed her method she believed helped her merch not experience any fading.
"I personally washed on cold, delicate, and then I'm air drying it," she said in her TikTok, showing her air drying her Eras Tour shirt, crewneck, and pullover. She mentioned she noticed a "little" fading in her white tee, but not as noticeable as the fading other Swifties experienced.
Elsewhere, fans also noticed other defects in their Eras Tour merch of the same design. TikTok user @marbar2 found several large stains on her shirt; however, she claimed she didn't check her shirt upon buying it. Then, a fan named @florencebarbieri40 found a straight line of holes near the bottom of her tee. In these cases, both of these issues were spotted before they washed their merch, so it's unknown whether or not they dealt with the fading issue, too.
This article was originally published on